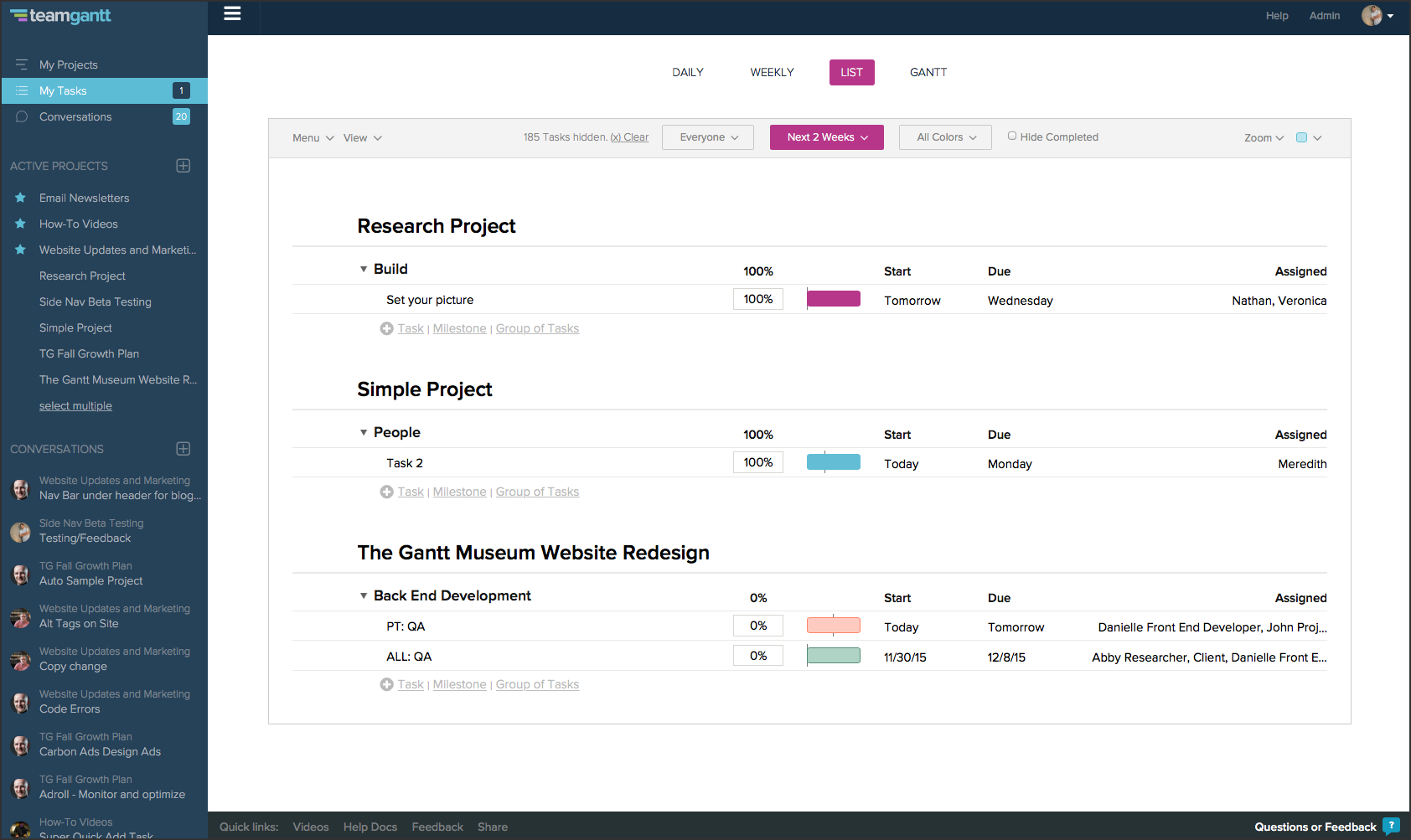 The main benefits of TeamGantt's are its use of Gantt charts, its collaborative platform that allows interaction between users, and its storage of templates and work history.
As a cloud-based project management software, TeamGantt enables its users to handle projects in a hassle-free manner. The app focuses on using Gantt charts in project management and makes sure that they are easily understood by anyone who looks at them. Users and employees only need to check the schedule and their tasks. Using TeamGantt, making intuitive charts with color codes and formatting is possible. The platform affords the business these advantages:
Team Collaboration
One of TeamGantt's strong points is its encouragement of collaboration in projects. Gantt charts can be shared with members, even with those who have no knowledge of the specifics. This feature is great for businesses that frequently share their plans. These charts are also easily checked and edited. Projects can be scheduled and employees and clients can get on board as well. With this software, each project team member is informed about all the project's current progress.
Project Creation and Task Management
The app also enables its users to put several projects in one chart and to present it like a project calendar with overlapping timelines. These projects are shown in task groups and are sequentially listed. Each individual task has a project percentage completion based on the finished, smaller tasks and even on the whole project. Commenting on the tasks is also possible and these comments can be broadcast to other project members. The software also collects these comments into conversation threads. The Gantt charts can also be made online with a simple drag-and-drop feature.
Templates/History Tracking
Every project handled on TeamGantt can also be used as templates for new ones. Templates are helpful when making tasks that are common. The platform can also save project views, such as screenshots of projects and related task statuses. Checking on saved projects allows managers to check on changes in each project.