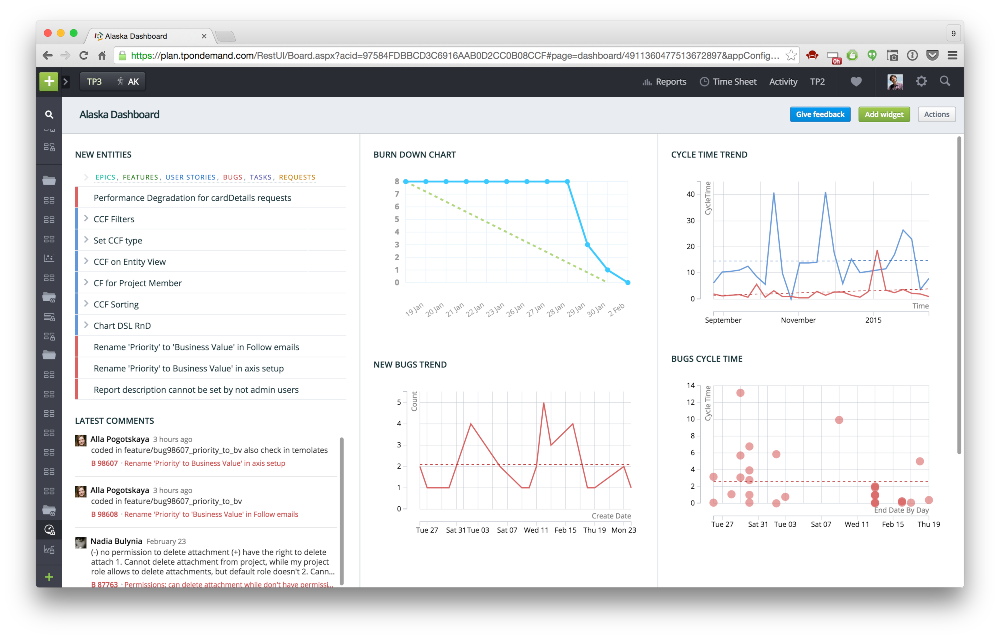 The main benefits of Targetprocess are its visualization, its consolidation, and great integrations. Here are the details:
Communicating with colleagues can be done without email, and Targetprocess users also only need to look at a single place to see all of their work. Performance can be forecasted and trends pinpointed with the use of custom and graphical reports, and relevant information can be highlighted with custom views.
Work progress and activities can be tracked with the Timelines feature, while progress tracking and planning are handled by the feature called Boards. Meanwhile, backlogs are managed and project hierarchies viewed through the List feature. All of these allow users the capacity to dig deeper or scale up at whatever hierarchical level.
Information is consolidated by Targetprocess through the connection of tools and systems that are critical to what users are trying to do. Through this, users can see and trace changes in software as well as the flow of data. With it, fixes can be quickly introduced, bugs tracked, modifications monitored, and modification history accessed.
If a business already has a workflow in place, using Targetprocess will not disrupt it as its configurations and rules can be customized and defined to be compatible with it. Conflict resolution can be automated, integration rules customized, and field-level mapping performed with Targetprocess and it's web-based administration.
Targetprocess users do not have to worry about having to configure multiple third-party integration technologies, as well as constant data exportation and importation. This is because Targetprocess has almost 80 integrations as well as almost 50 features that save them money and time. Priorities can be organized across organizations, projects, and teams with all the apps and tools that the solution provides.
Even without a Targetprocess license, users can target item status, add comments, vote and search for ideas, and submit requests through the Service Desk standalone application provided by the vendor. Users can also opt to use a simplified and embeddable widget where questions, ideas, and issues can be submitted by clients visiting the site.
Targetprocess also has a lot of educational resources at their disposal, including a knowledge library, video tutorials, how-to articles, FAQs, self-paced courses, webinars, online classes, as well as online and onsite workshops. All of these include information on Targetprocess accounts, functionalities and features, and any software questions users may have. A Slack community, a service desk, live chat, and email are also available to those looking for customer support.