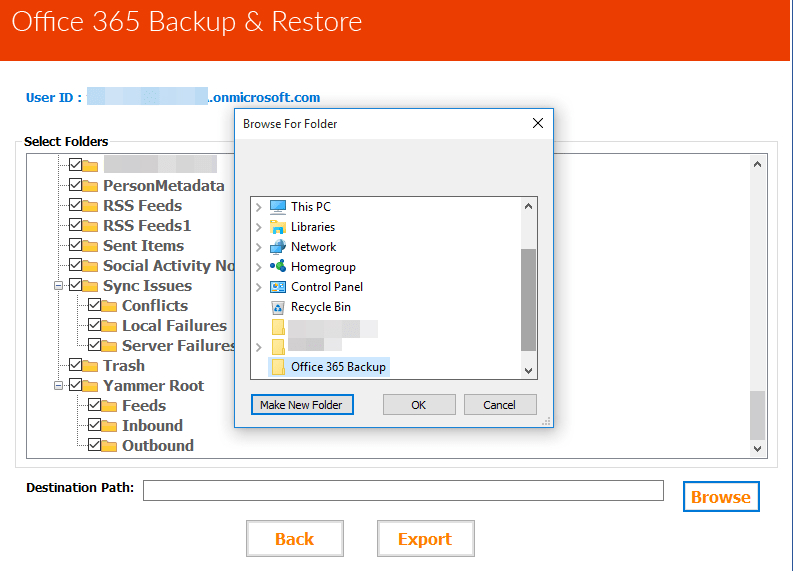 Cloud storage vendors adopt high-quality security measures, but their products are still vulnerable to risks that endanger the privacy of your sensitive and critical business info.SysTools Office 365 Backup and Restore secures all your data in a local machine and keeps it safe from unauthorized access, leaks, and security breaches. In addition, the tool guarantees business continuity with local backup generation of Office 365 mailboxes.
Backup and Export Office 365 to EML and PST
Office 365 account info can be backed up locally on the user's computer. The backup provides alternative data in case there is a disaster and also makes sure of its availability in the absence of network. The featured software exports Office 365 mailbox contents to EML and PST file types. In addition, the backup output is saved on the local computer as Individual Email file or Outlook Data File (PST) as per your choice. All info is stored, auto-mapped, and exported in the output PST file. In this manner, the software promotes convenient and effortless backup generation of cloud data on the local computer.
Export Multiple Office 365 Accounts
SysTools Office 365 Backup and Restore reviews reveal that the application performs backup generation for single and multiple user accounts. The administrator account has an impersonation feature that enables backup of bulk mailboxes thus facilitating export of Office 365 Mailbox to PST format in numbers. Single account backup exports a solitary PST file with account data. Plus, multiple PST files can be created at the chosen destination path to represent each account chosen for backup.
Managed and Filtered Account Backup
You can easily execute a managed email backup in Office 365 as well as backup of Office 365 accounts into EML or Outlook PST. Utilize the filter option to generate backup of selected data. You can base the selection on folder or specified time interval. This option helps to export only needed or important Office 365 data for backup. Finally, you can apply Naming Convention to save and export in EML format to easily distinguish files.