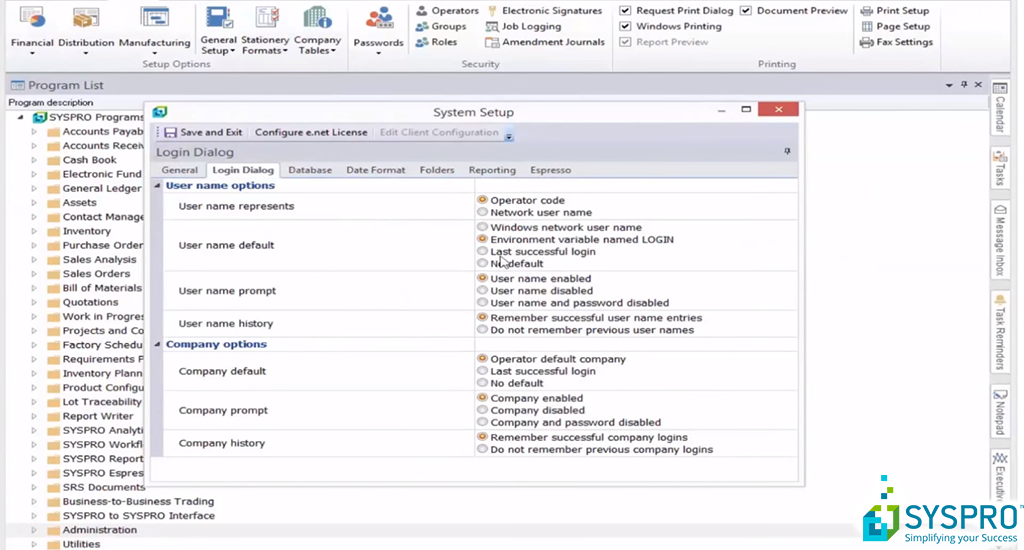 The main benefits of SYSPRO  are its engaging interface, high availability, ease of use, and intuitive platform. There are many other benefits that help manufacturers manage their processes. Given below are the best ERP benefits that the system has to offer:
A trusted name in ERP
SYSPRO ERP has been in the business for over 40 years and promises best-in-class features to manufacturers and distributors to suit individual needs. This gives users total control due to highly optimized processes. On top of that, the system can be customized according to a business's needs.
Highly scalable solution
SYSPRO ERP is agile, innovative, and responsive and is able to serve you in the long term. Even as your company grows, you can still depend on the product's flexibility for your operations. Besides, the vendor's industry experts can be highly beneficial for you as they can offer you advice with regard to best practices.
Flexible deployment options
There are three different options available: on-premises, in the cloud, or hybrid. These choices let you pick the right solution as per your requirements and budget. Through the cloud-based version, you can get access to the software whenever you want and across all devices.
User empowerment
SYSPRO ERP promotes user empowerment by offering valuable insights so that they can take better decisions. Real-time information is helpful in allowing users to meets deadlines and targets.
APIs and services for better integrations
The system is capable of integrating with any solution and intelligent devices, irrespective of whether they are cloud-deployed or locally deployed. Users can achieve successful integrations by using SYSPRO ERP's APIs and integration services for better interactions and data management.
Algorithms for growth
The product uses artificial intelligence and machine learning to analyze data so as to help your business grow. The results of the analyses can be beneficial in making quick business decisions.
BOT agents
The app uses BOT agents to automate redundant processes to allow better collaboration of the supply chain, quicker decisions, and improved operations. This quickly makes a business digital while minimizing disruptions.
Increased productivity
SYSPRO ERP helps improve engagement of employees as it offers a good working environment which also increasing productivity. The system enables this with collaboration support, ease of use, and user empowerment in daily tasks.