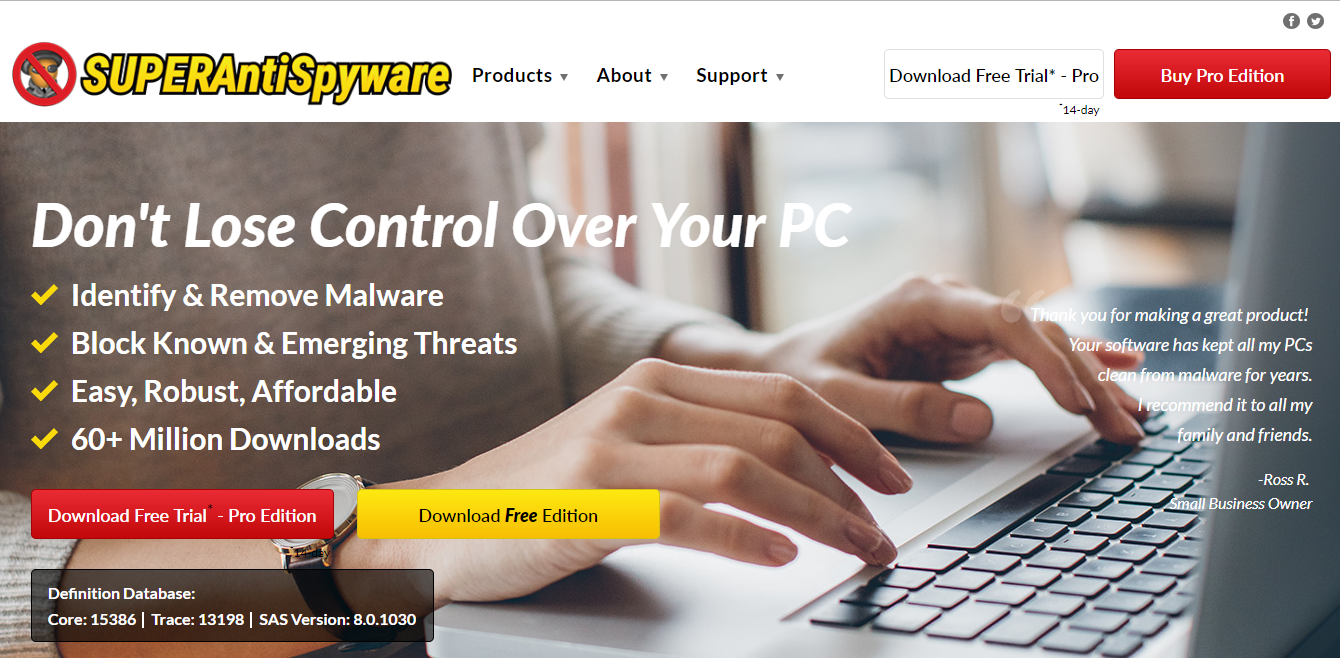 The main benefits of SUPERAntiSpyware are its flexible scanning, real-time threat blocking, repair system toolbox, dedicated threat researchers, remote monitoring, and central management console. Here are the details:
Flexible Scanning
Whatever scanning options users pick—be it complete, custom or quick—the software will meticulously look through the system for threats masquerading as legitimate files. These files are them removed as soon as they are discovered.
Real-time Threat Blocking
Organizations and businesses that use SUPERAntiSpyware are protected from threats in real-time, so they are assured that malicious software doesn't find its way into their system without their knowledge.
Repair System Toolbox
The SUPERAntiSpyware toolbox is something that professional users and IT staff can use to deal with spyware, which is known to change system settings and make it hard for them to be removed. With the toolbox, spyware can be thoroughly removed and the system returned to its condition before being infected.
Dedicated Threat Researchers
Users of SUPERAntiSpyware can be assured that their systems are protected from both old and new threats as the software has a dedicated group of researchers that are up-to-speed on new threats that pop up on the web daily. Users get daily definition updates which protect their systems from threats new and old.
Remote Monitoring
IT departments can always be kept updated of the status of remote workstations as SUPERAntiSpyware consistently sends emails about actions done against threats to central management. These constant notifications help IT departments remain on top of things when it comes to maintaining the health of their IT system.
Central Management Console
SUPERAntiSpyware makes it easy to protect all workstations, wherever they may be located, thanks to its central admin console. This central console also makes it easy for IT departments to download and send out definition and program updates to all the computers connected to the network.
The console also allows for precision, as administrations can use it to define whether the threat responses are deployed on an individual level or a global level. Chronic infections and repeated attacks can be prevented in this way.
Administrators can modify or set SUPERAntiSpyware configurations, so not just anybody can disable or alter entire programs and inadvertently spread the infection to other computers in the system.