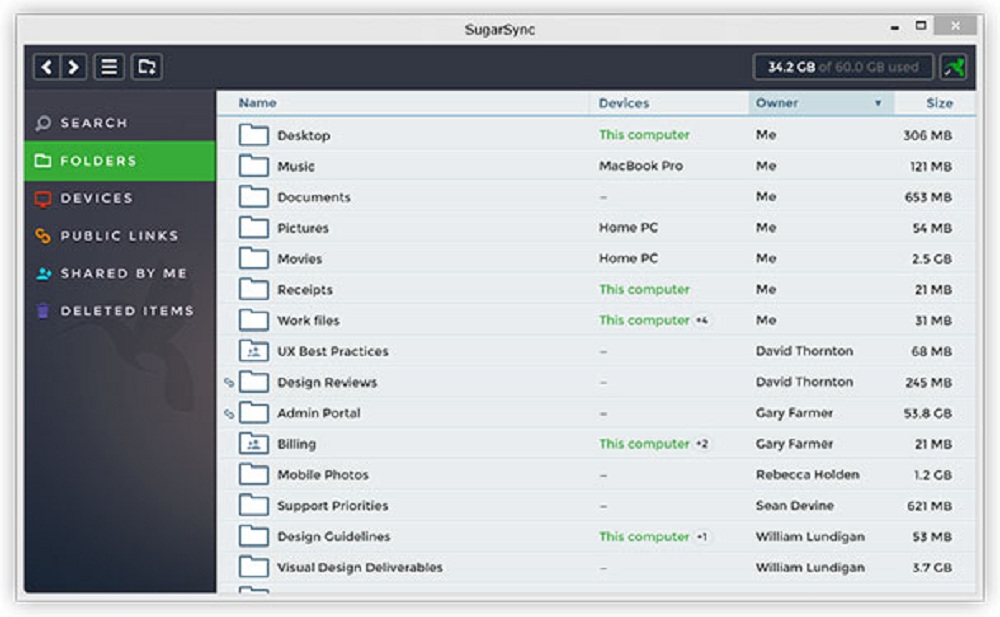 The main benefits of SugarSync are its extensive capabilities for sharing and syncing files, its features to allow users to update or edit their files directly in the platform, cross-device compatibility, and its cloud-hosted nature. Here are more details:
Rich file sharing and syncing solution
SugarSync makes it easy for individuals, team members, and managers to share and sync any number of files ranging from a few folders to complete libraries across several devices. Shared folders and files are also automatically backed up and it is done so in real time, which means that all devices connected to user accounts are always up to date with the most recent changes.
File Manager
SugarSync does not just automatically sync all folders for its users, it allows them to work with any folder they need or edit their contents straight from the platform. The system features the File Manager tool that provides users with incredible file control and organization, allowing them to select files they want to see and also to arrange them in any way they find convenient.
Compatible with any device
The software is compatible with any system or mobile platform, which means that files can be accessed and edited from PCs and Mac computers as well as iOS and Android. It also means that it's not an issue if users are going to start working on documents on their office desktop and finish them outside the office using an iPad.
Cloud-hosted
One of the best characteristics of SugarSync is that the entire system is hosted in the cloud, which effectively eliminates the need for any extra time or recurring expense for operating it. Users won't also have to worry about backup and security and system updates because of this feature. To be able to fully utilize the system, users are only required to make an account, input the proper credentials on every device to be utilized, and then they're good to go.