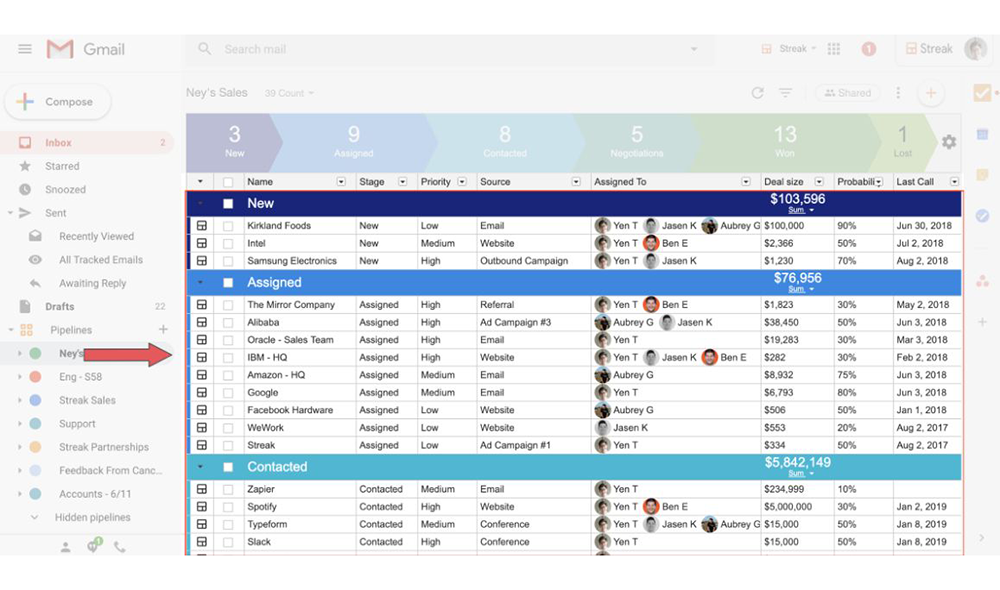 The main benefits of Streak are its ease of use, it streamlines workflows, and it enhances collaboration. Here are more details:
Easy to use
Let's face it: email is one of the best lines of direct communication with prospects and customers. When this channel of communication is complicated, or a separate CRM solution is used, it becomes difficult to manage customer relationships.
Streak is designed to make the entire process simple. The system itself is easy to use, and employees don't have to spend time learning new tools. It flattens the learning curve, allowing organizations to streamline workflows and maintain consistent team's momentum. The application simply compliments the email habits of your organization and offers a trusted email client that can be used to push deals down the sale funnel.
Streamline workflows
In addition, Streak is primarily designed to simplify the sales pipeline. It is a robust tool that can be used by product developers to structure workflows for task stages and collaboration. Besides, fundraisers can use Streak to organize stages into their desired layout to deliver pitches with ease. Other departments HR and customer support, can use Streak to make their processes more efficient.
Enhance collaboration
Better still, Streak enhances collaboration. Although email is one of the best collaboration tools, it exhibits some weakness. Streak takes the weakness and converts them into strengths. As a result, team members, customers, key partners, and other stakeholders can easily adapt this communication channel as their chief collaboration tool. The CRM plugin stores documents in a central place for easy access. Users get access to shared files regardless of the stage your conversation is with the other party.