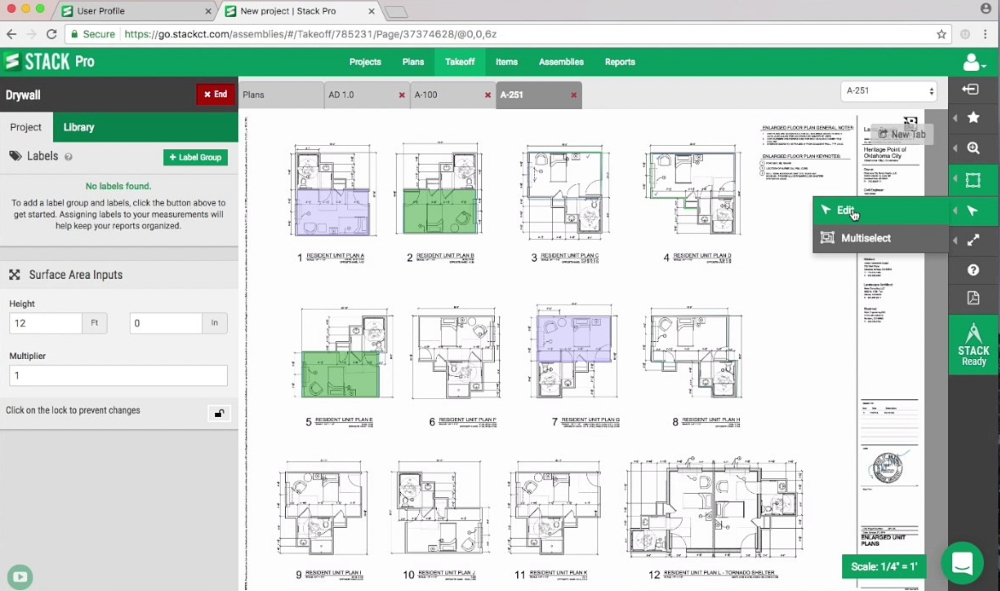 The main benefits of STACK are its on-screen takeoff, its auto-count tool, and its construction library. Here are the details:
The on-screen takeoff makes a construction project's blueprint available, with factors such as the number of doors required or the amount of concrete needed made customizable and adjustable. On-screen planning is made possible by this STACK tool, with the user confident that the measurements provided are accurate. Plan attributes and symbols are monitored by an auto-count tool. STACK's streamline nature also allows users to instantly come up with project proposals that are comprehensive and exhaustive. Adjustments can easily be incorporated as editing can be done instantly. Also available to users are detail and summary reporting, during and after planning.
Users of STACK get an accurate count and comprehensive view of all the things that are needed for the project. The quality of materials and their quantity are listed, and users can check if any adjustments are needed when it comes to particular materials. Users can be assured that all materials have been counted and summarized. They also get a full cost report, with the overhead markup also included and considered.
STACK's formula editor for custom assembly with definitely be appreciated by construction firms that follow a specific aesthetic. Estimation and takeoff are sped up by this feature since users can come up with construction plan materials and assemblies that are customized to their requirements. Any new project can then start with this customized plan.
Users can also expect more convenience when it comes to planning thanks to the construction library provided by STACK. Not only are pre-built reports and default plans made available to users, but they can also customize these to meet their construction requirements and needs. The construction library can also be used as a  reference when making project proposals, as all common construction materials can be found in its database. New firms just venturing into construction will appreciate this feature, as well as its plain text search function.
Integration with Excel is available, which allows users to copy counts and quantities without having to leave Excel. A Google Earth integration is also available, so plans and images can be integrated with it. The software is TIFF and PDF compatible, and also allows for hyperlinking and bookmarking.
Since STACK is cloud-based, no installation is needed. This also makes it very portable and mobile. Most devices are compatible with it, which when combined with it being cloud-based makes it easily accessible. Wherever the user may be, they can upload, view, and edit project plans. Exporting and printing can be done at any time. Aside from unlimited support and training, software upgrades are also provided periodically.