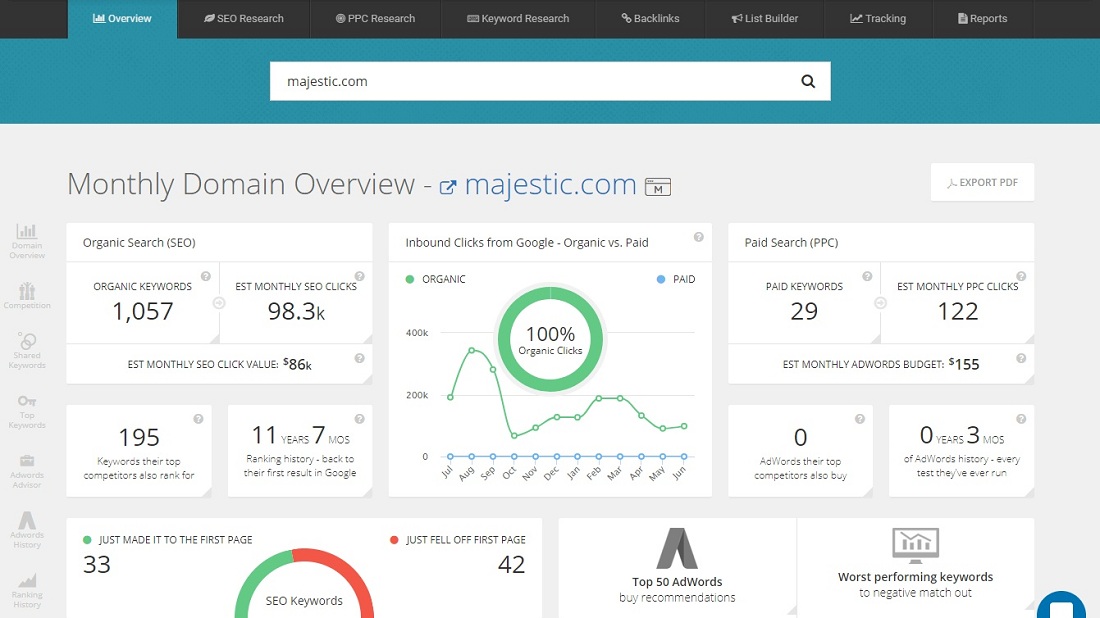 The main benefits of SpyFu are its ability to search for domains, smart recommendations, and reliable contact information. Here are more details:
Domain Search
With SpyFu, you can search for domains of any kind and view wherein Google these domains showed up, see every keyword they have purchased on Adwords, every ad variation, as well as organic ranks in the last nine years. With this capability, users will have a chance to connect with the domains and discover traditional and online lead methods.
Smart Recommendations
SpyFu provides smart recommendations which drive clicks to the Adwords or SEO campaigns of a business, making marketing more effective. The system detects bad keyword and eliminates it instantly so the users can only receive the best keyword options available.
Monitoring Tools
The software also provides reliable tools that allow marketers to monitor SEO rankings and paid ads on search engines including but not limited to Yahoo, Bing, and Google. Another notable thing about this system is that it eliminates the need for keyword search testing. Marketers can leverage the lessons from their competitors through drawing on historic misses and hits.
Reliable Contact Information
Not only does SpyFu helps in searching for domains, monitoring SEO rankings on search engines, or offers smart recommendations. This platform also helps businesses develop partnerships and generate quality sales lead. The software's powerful technology helps transform Google search results and Adwords data into insightful answers that can aid marketers in crafting better digital marketing strategies. This platform offers capabilities that assist businesses in achieving the marketing results that they need.