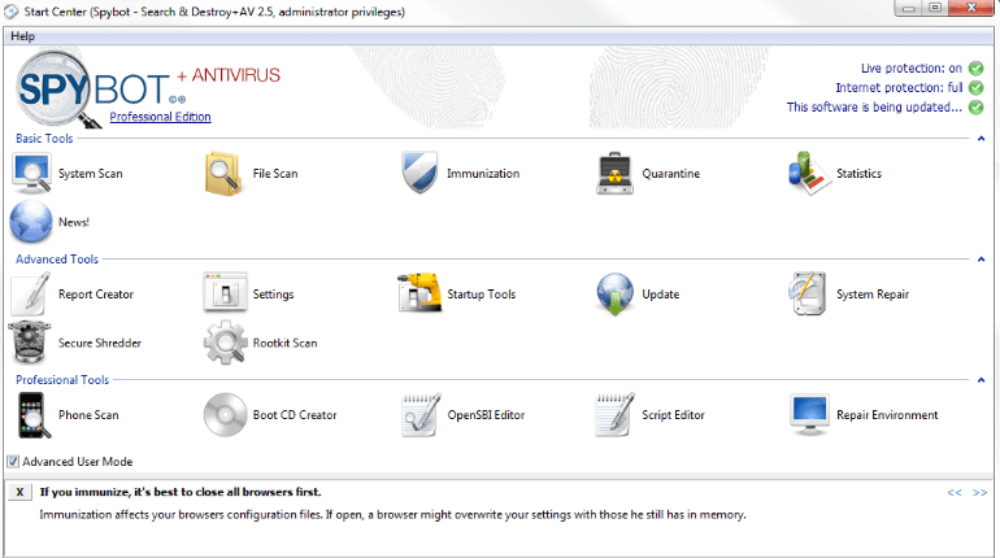 The main benefits of Spybot are its preemptive protection, its startup cleaner, and its ability to access infected machines.
Preemptive Protection
Users of  Spybot – Search & Destroy can confidently carry out their tasks and browse the web since they can be sure that anything business-related they are working on is safe from prying eyes. The software constantly looks out for possible threats and makes sure that software threats are immediately removed. Spyware and other questionable files are also removed from browsers.
Startup Cleaner
Computers that have Spybot – Search & Destroy run faster during startup as the software has a tool that removes malware that overtaxes the computer's processing load. It makes the distinction between actual startup and autorun programs so only malware is removed and processors run smoothly.
iPhone Security
iOS devices are also protected by Spybot – Search & Destroy from possibly dangerous applications. Users get alerted about apps acting suspiciously and using illegal behavior monitoring mechanisms so they can make the decision to either keep or remove the apps from their device.
Access to infected machines
One of the most outstanding features of Spybot – Search & Destroy is its Boot CD Creator. With it, files can be retrieved from computers considered unusable because of malware. It does this by using an uninfected computer to house a Spybot 2 liveCD, which can then recover important documents and files from the affected system. Workflows that depend on these documents or files can now proceed smoothly.