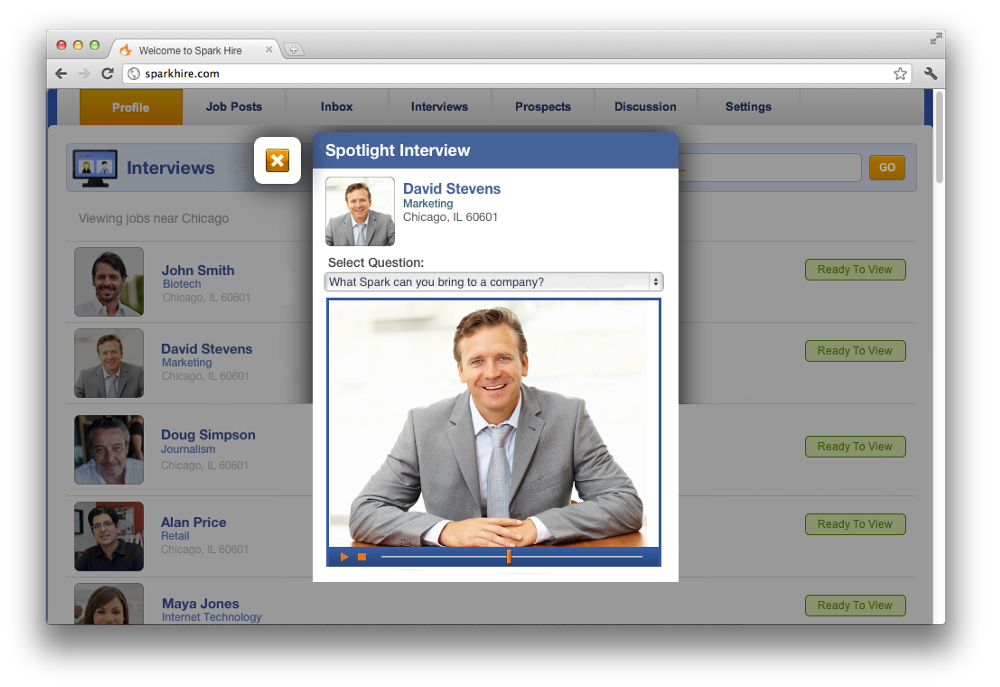 The main benefits of Spark Hire are its simple and easy-to-use solution, interview options, and fast candidate shortlisting. Read here for more details:
With Spark Hire, you have two options to conduct interviews – the one-way video interview and live video interview.
The one-way video interview is conducted by having the candidates self-record answers to the questions using webcams from computers or the software's mobile application. The questions can be saved as a template if you wish to use the same set of questions in future interviews. Also, candidates can make their video interviews based on their availability, giving them the freedom to choose an appropriate time to answer them.
The live video interview, on the other hand, is another option where the Human Resource staff conducts video interviews in real-time through a web browser. Users don't have to download and install a desktop app that has video chat features. Live video interviews can also be recorded. Users can contact the support team to ensure that the platform is properly configured before the scheduled interview.
Whichever interview option you use, the main purpose of the platform is to hasten the selection of qualified candidates. Its rich functionality allows evaluative documentation for successful applicants as well for those that failed to make it to the list. Shortlisting can be done by giving each candidate a rating using a 5-star scale. Interviews can also be shared with your recruiting team to let them provide their own ratings and comments.
You can also place feedback for rejected candidates through a drop-down list of reasons. The list is customizable to let you add as many reasons as you want. You can also send reasons to rejected candidates via email to let them know why they're not qualified for the next round of the hiring process and give them learning experiences they can use for future interviews.