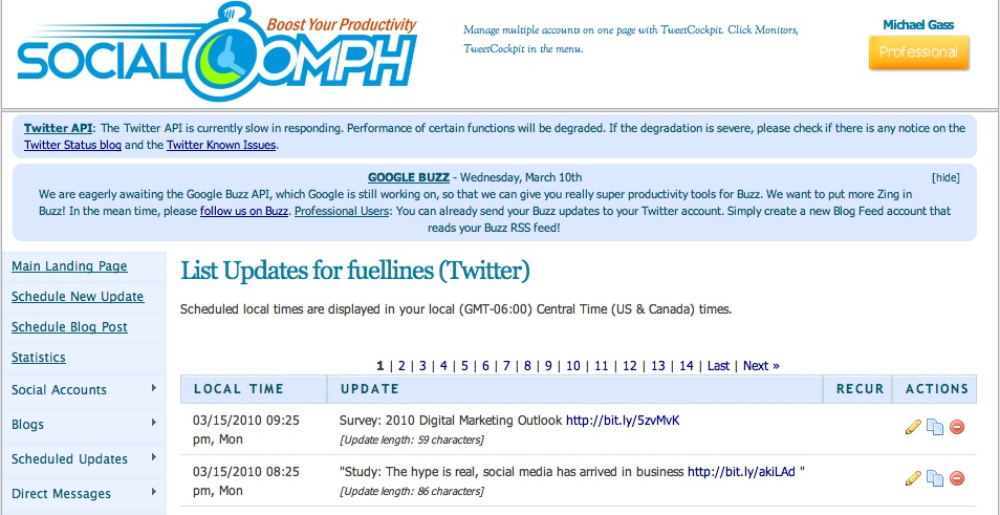 The main benefits of SocialOomph are its ability to handle activities across several social media platforms, its automation features, and how it can update across multiple social media channels.

SocialOomph's suite of features allows users to effectively manage their social media activities, whether it's on Twitter, Facebook, LinkedIn, or other social media sites. SocialOomph can even handle activities related to blogs.
Twitter users who avail of SocialOomph get features that provide analyses and recommendations when it comes to their follower lists. Direct messages to new followers can also be automated. Twitter users with high influence can also be discovered with a keyword search setup.
For Facebook users, image uploads and schedule updates can be automated, while LinkedIn users get to schedule shares. Profile updates can be scheduled on App.net and Plurk. Bloggers who us SocialOomph can set up automatic updates on social media as well as RSS feeds. This is in addition to using the app to write blog posts and publishing it on different blogging platforms.
SocialOomph can also convert a user's emails into updates on their social media and remove messages from their inbox after a set amount of time has passed. They can monitor new followers, filter profiles, and even upload tweets in groups.