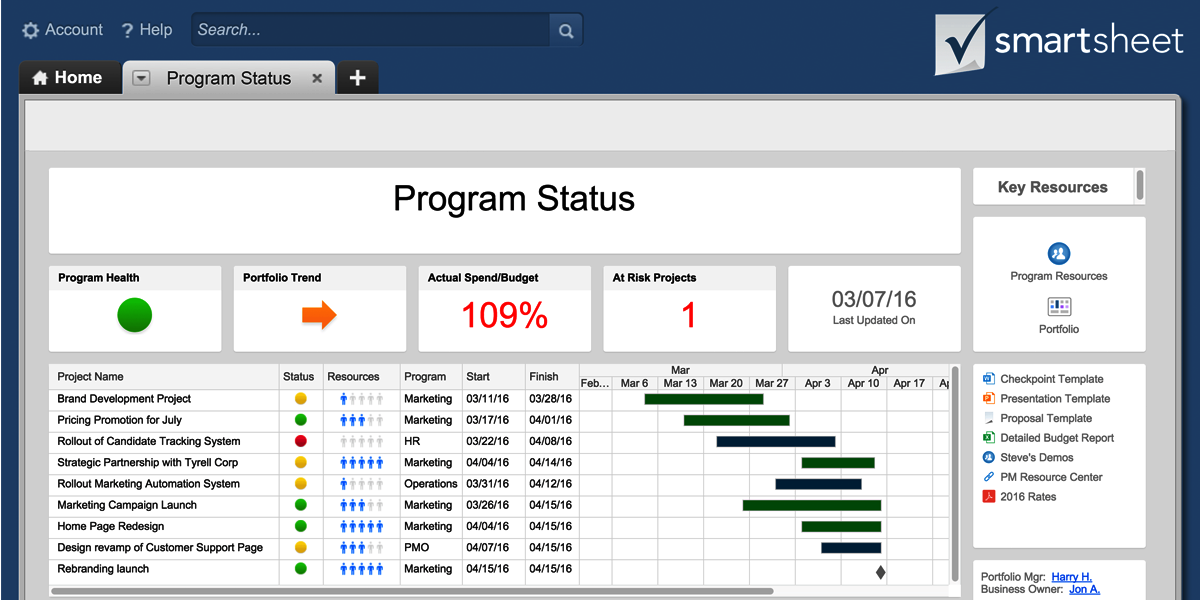 The main benefits of Smartsheet are its general usability, stable functionalities and mobile support. Let's itemize the details below.
Smartsheet can help boost work performance with its highly intuitive and user-friendly UI. It lets users enhance their work process while enabling them to conform to changes. This can help businesses make plans quicker and executing the plans for a shorter time period. Workflows are organized and streamlined through the use of rich context.
Tasks that destroy productivity such as constant emailing, information silos, and never-ending meetings are no longer an issue. The tool has automated reminders, status reports, and real-time notifications that ensure everyone is on the same boat. Content sharing, collaborative work, and direct connection to stakeholders are streamlined. This ensures information is updated and handed down to the right personnel at a precise time.
The accountability of each team is now improved, thanks to the platform's activity logs, comprehensive history, and shared views that make it easy to determine which individuals are responsible for each action and when the action was carried out.
Smartsheet's hub offers versatility that can cater to any business need. It lets users concentrate on the work being done as opposed to constantly fiddling with the software. Plans can be modified while the dashboard can be configured to help users adapt to sudden work changes.
Data collection is simpler and compatible with a variety of devices such as a desktop, laptop, or a mobile device. Meanwhile, the form builder gives users the ability to come up with customized design. The forms are consistent, neatly organized, and free from errors.
Data that are being collected from the platform are structured for easy viewing. This can help users convert analyzed data into actionable insights.
Since Smartsheet works with enterprise apps, organizations can sync their data from a single location. Moreover, Smartsheet has native app integrations and comes pre-loaded with integrations for Microsoft Office 365, Google G-Suite, DocuSign, and Box. It also comes bundled with connectors for ServiceNow, Jira, and Salesforce.