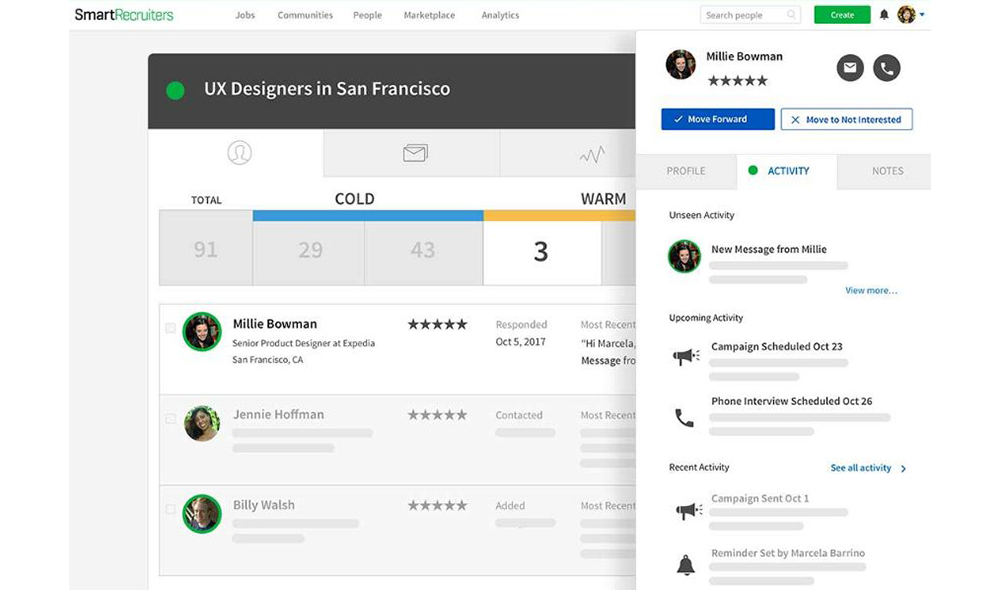 The main benefits of SmartRecruiters are its accurate hiring, centralized talent database, and ease of use. Here are more details:
Centralized talent database
Let's face it; hiring departments handle high volumes of candidates' data. Without proper recruitment software, the hiring managers can be overwhelmed, leading to loss of talent. SmartRecruiters is designed to centralize talent data in a single repository. By centralizing the database, the solution eliminates the tedious prior sourcing tasks. It enables the relevant departments to search talent with ease, and pinpoint the right talent quickly.
Accurate hiring
When handling high volume hiring, it's easy for the right talent to slip under the nose. Even worse, when a hiring department is overwhelmed, it's easy to use guesswork in the hiring process.
SmartRecruiters is designed to eliminate guesswork and power accurate hiring. The solution handles the process, allowing hiring managers to concentrate on picking the candidate and not managing the system. Its AI-powered module, SmartAssistant, uses data science to connect managers with top talent. It enhances hiring efforts and prioritizes screening to ensure the talent is picked accurately.
Ease of use
SmartRecruiters is easy to use and scalable. The solution comes with an intuitive user interface that makes it easy to configure workflows and streamline the hiring process. The use of smart technology simplifies the tasks for hiring managers and enables them to only focus on picking talents.
Moreover, SmartRecruiters provides all the tools you need in a single platform. It is a robust, one-stop talent acquisition system, where you can manage job postings and process applicant data with ease.