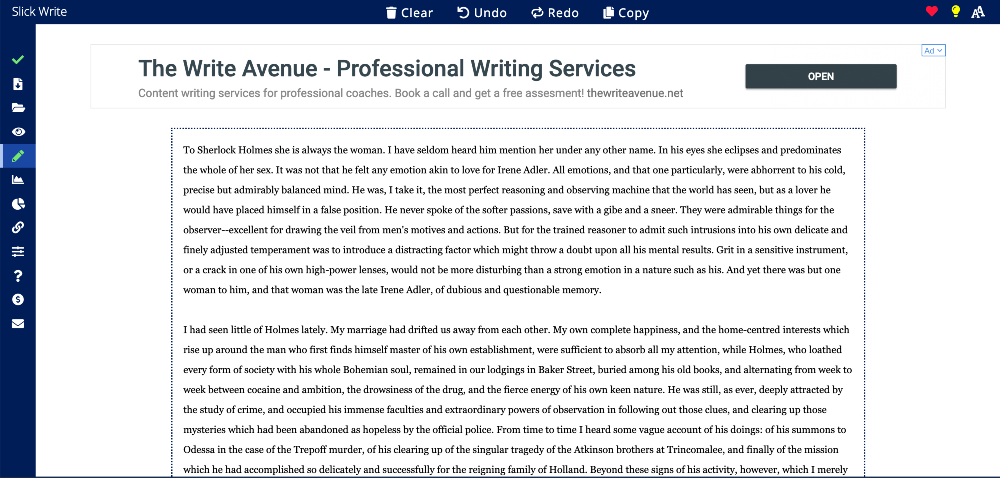 The main benefits of Slick Write are its statistics, its vocabulary, and its word association feature.
Once a document has been checked for stylistic issues and grammatical errors, Slick Write shows key statistics in a window that automatically pops up at the bottom of the screen. The statistics displayed include the average length of words, sentences, and paragraphs, word count, the number of adverbs and long sentences, as well as how much time it will take for readers to finish reading the text. Metrics for passive voice and prepositional phrases are also displayed.
Slick Write makes it easy for users to find which writing areas they need to concentrate on through graphical illustrations. The types of sentences used in a file can be broken down and displayed using a pie chart, so users have a visual as to the percentage of compound-complex, simple, complex, or compound sentences they are using.
Users can also use Slick Write's Vocabulary Variety feature to find out if they are constantly repeating the same words in a document. When words are repeated too many times in a text, the work is highlighted in red. A work highlighted in green means there are few repeated words in the work.
With the help of artificial intelligence, Slick Write is able to perform word association, generating results that are based on how words are linked and used in literature. This could be of help in getting over writer's block.