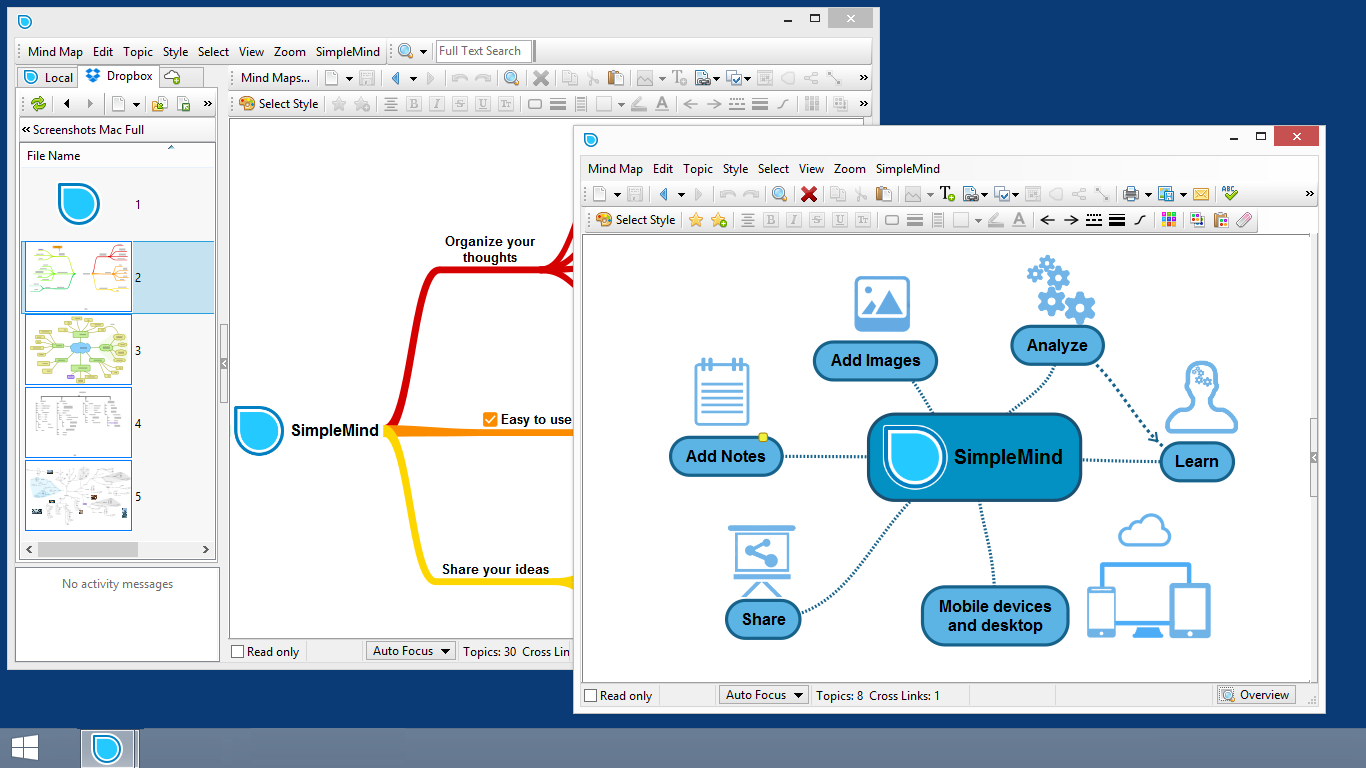 The main benefits of SimpleMind are its brainstorming tool, easily moving topics and branches, collapsing or expanding and hiding or showing tools, and arranging topics automatically. Here are SimpleMind's benefits:
Brainstorming Tool
SimpleMind is ideal for users who want to keep their thoughts structured in a visual manner. This is useful in free-flowing brainstorming sessions where ideas get thrown in and the connections get vague especially when the pace is really fast. SimpleMind allows users to store ideas, revisit them, and make insightful connections between them. This can be done by connecting topics in the form of graphs or trees. Relationships can be specified using arrows and hierarchies can be made by stacking topics on top of each other. It provides a perfect balance between unrestricted creativity and creative yet practical problem-solving.
Cross Links
There may come a time during one's structuring of thought visually that topics arise that seem to be weakly connected with each other but some degree of association can remain significant. This comes up when they are not hierarchically connected from the main topic or thought cloud. SimpleMind designers and developers understand this and thus created a go-around where topics that are not hierarchically connected can be associated with each other through cross links. Cross links can be activated by dragging the node and releasing it on the topic that a user wants them to be connected to. It is as easy as that.
Free Form
Mind maps in SimpleMind can be formulated using different layouts. A free form layout feature allows users to arrange topics in a way that makes sense to them and in ways that they can communicate it to collaborators easily. This flexibility makes SimpleMind a collaborative tool for people engaged in business planning, marketing communications, collaborative fiction writing, and many more.
Automatic Arrangement
SimpleMind comes with an auto-layout function. It instantly arranges topics in the mind map and structures them into four types such as vertical, list, top-down layout, and horizontal. Furthermore, different layouts can be used simultaneously in one mind map. This helps in de-cluttering and also aids users to see things in different positions or "angles". Furthermore, there is a snap-to-grid and other alignment functions to personalize every map made with SimpleMind.
Rich Media Support
One can use different media types in their mind maps on SimpleMind. File documents can be attached to topics as well as pictures, videos, and audio recordings. One will be able to snap meeting notes and recordings into a topic and have important information handy within one single platform. An image can be added as an embedding or a floating one. For images, users may choose to save full-size images unto the mind map file itself, into a local drive, or on the cloud. This allows them to view them directly within a file and in any device depending on their preferred storage option and device storage capabilities.