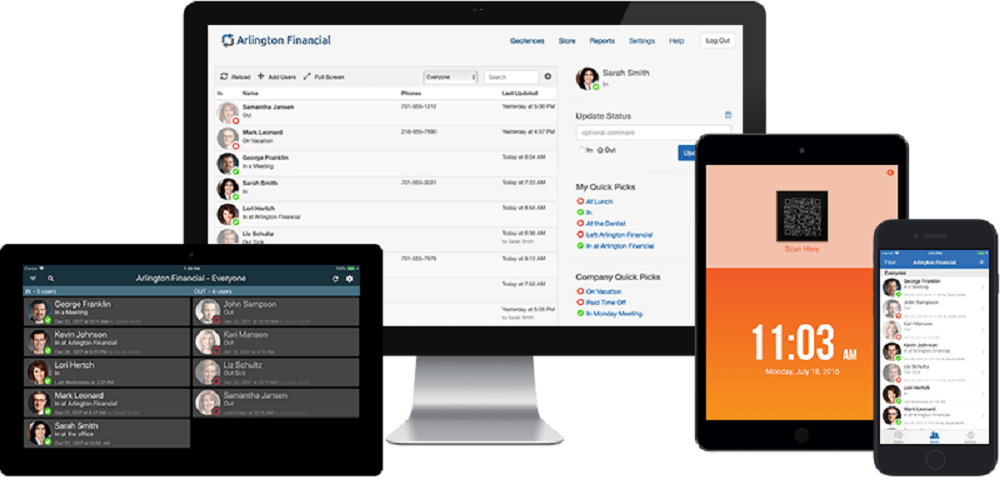 The main benefits of Simple In/Out are its compatibility with different devices, seamless employee monitoring, employee timeline reports, status scheduling, and helpful integrations. Here are more details:
Compatibility with Numerous Different Devices
Simple In/Out can be used in desktop, mobile devices, and even in televisions. For TV, you can install the system via App Store, Amazon, or Google Play. It is also accessible from the web. This multi-platform availability allows employers to determine who is present and absent from work effortlessly using the device that they are most comfortable with.
Seamless Employee Monitoring
Simple In/Out lets its users, specifically an organization's management, see who among their employees follow their schedule and go to work on time, who arrives early, and who stays in the office even after their working hours have ended. This lets employers know their employees better, identify problems in the workplace, and find solutions to them before they cause havoc to the organization.
Automated Notification
The system notifies management when an employee is absent or present. The notifications are sent automatically, meaning even if the user is not using the software, he or she can still get a notification on their chosen devices. Those who are in a work break, on the other hand, will surely find the capability to set when to receive notifications incredible so you will not be disturbed throughout your vacation.
Employee Timeline Reports
This feature still needs to be set in order to work. Companies who set this feature can receive information on a daily or weekly basis. The generated reports can be used in record keeping and payroll management and ensure that everything is accurate. It can also help in resolving any error that may have happened in the past.
Status Scheduling
Changing status is also a breeze. Users only have to set the new time and date and the application will relay the data to the board automatically.
Valuable Integrations
With an open API and Webhooks, Simple In/Out can be integrated with other applications that can further the functionality of the system.