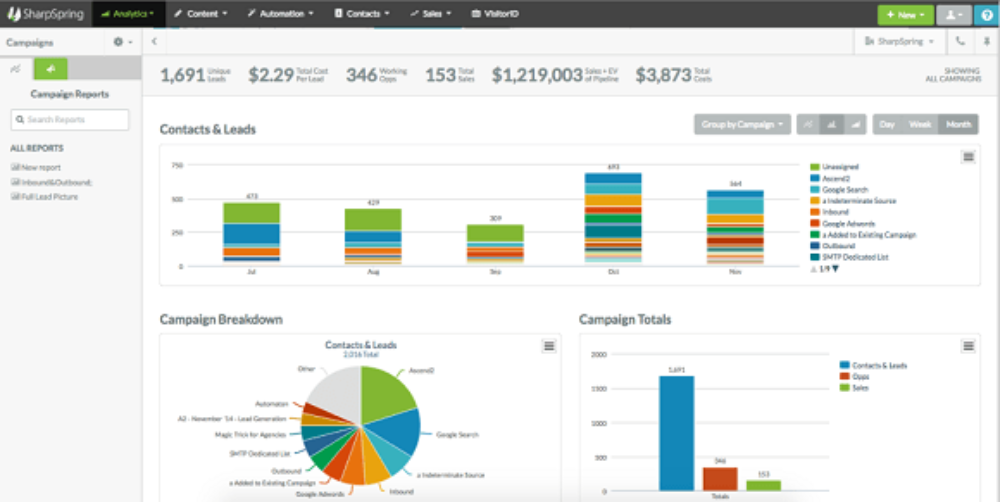 The main benefits of SharpSpring are its email automation, its lead engagement, and its analytics.
Lead conversion rates are improved by SharpSpring, as it offers a wide array of solutions when it comes to marketing products and services on the internet.
Unlike other email services, SharpSpring's "after-the-click" tracking lets users send personalized messages that start conversations and turn into lead conversions. Leads are provided with information during critical parts of the sales journey, improving the chances of conversion.
Forms generated by the solution can be customized so that reorder fields are included. Because of the drag-and-drop functionality, modifications like this can be easily done. Regular visitors are provided with an autocomplete option, which further improves conversion rates. The tool can also map fields from native and third-party forms.
Marketing automation is simplified by the system's intuitive visual workflow builder. At critical stages in the sales journey, leads can be engaged through branching logic. Customizable buyer personas allow for targeted messaging. Lists of strong leads are emailed daily to users, giving them multiple opportunities for easy conversion. Strong prospects are easily identified by factors like engagement and fit, as well as page tracking.
Identifying leads is quick and easy as twice as many site visitors can be identified by the tool. The tracking feature is behavior-based, allowing users to determine prospect motivation. Visibility into the leads pipeline is provided so users can track their leads. Distinct sales processes can also be handled as users are free to come up with their own filters, deal stages, and fields.
Funnels and landing pages can be created by SharpSpring, aiding in the quick conversion of leads. Conversations are driven up since web content can be modified to match visitor interests and attributes, thanks to the point and click functionalities that come with the user-friendly interface of the tool.
The system's analytics makes it easy for businesses to make decisions that are backed up by data. Teams and clients can get easy-to-understand and information-rich reports through the tools metrics feature. Deliveries, opens, bounces, and clicks can be followed, allowing for the optimization of messaging. All of this allows users to know how successful their emails are.