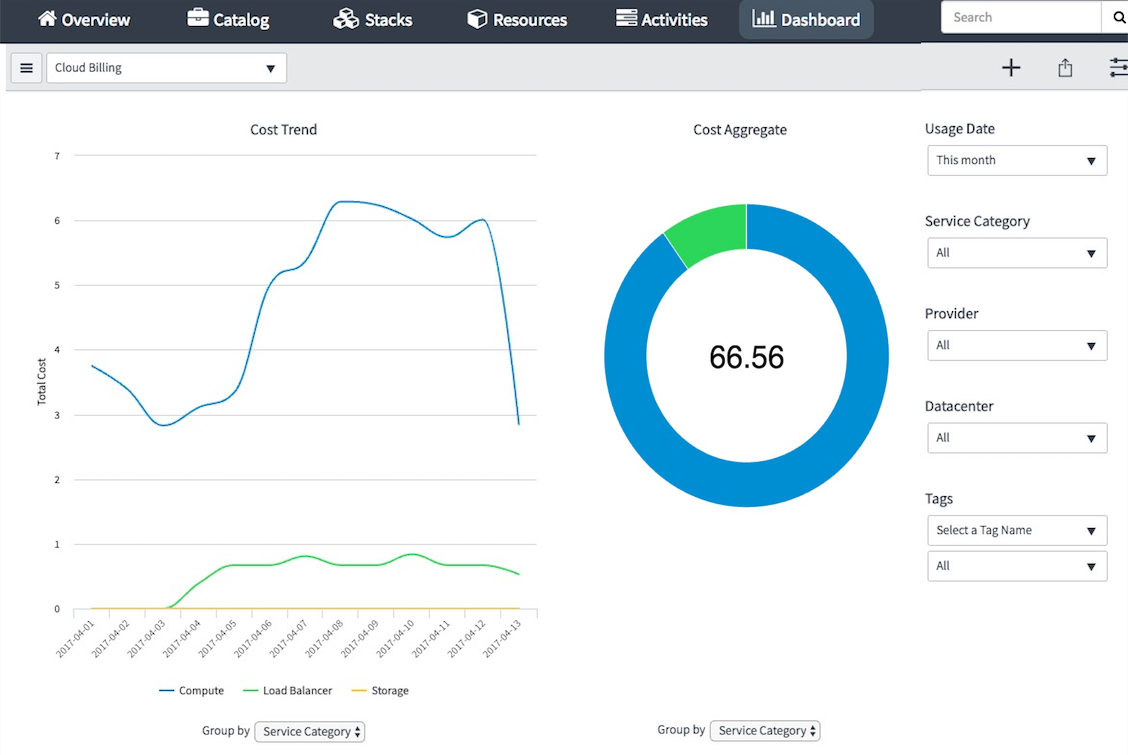 The main benefits of ServiceNow Cloud management are its Cloud User portal, the ability to design cloud service from a single dashboard, the ability to build cloud agnostic app blueprint, and powerful policy engine. Here are more details:
Cloud User Portal
Cloud User Portal offers its users immediate access to their daily activities and ability to perform different activities including but not limited to monitoring quota, stack health and requests, and creating and tracking incidents. They can also request cloud resources via the multi-cloud self-service catalog.
Design Cloud Service from a Single Dashboard
Users of ServiceNow can design, manage, and govern their cloud services from a single window. The portal offers unique dashboards for different personnel like cloud operator, cloud designer, cloud administrator, as well as cloud governor.
Ability to Build Cloud-Agnostic App Blueprint
ServiceNow allows users to create a cloud agnostic app blueprint using a YAML representation or a visual designer. Moreover, users can leverage the existing investment in Azure ARM, as well as AWS CloudFormation (CF) templates, by turning them into a helpful blueprint. Blueprints generally generate workflows as well as catalog items. This offers effort and time-saving benefits.
Powerful Policy Engine
The software's policy engine encodes business governance policies. It works simultaneously with the automated workflow, ensuring that a sufficient amount of control is applied in naming convention and resource planning. The IT department, therefore, can guarantee the right allocation or control of the compliant resources and save more time to deal with and meet new needs.