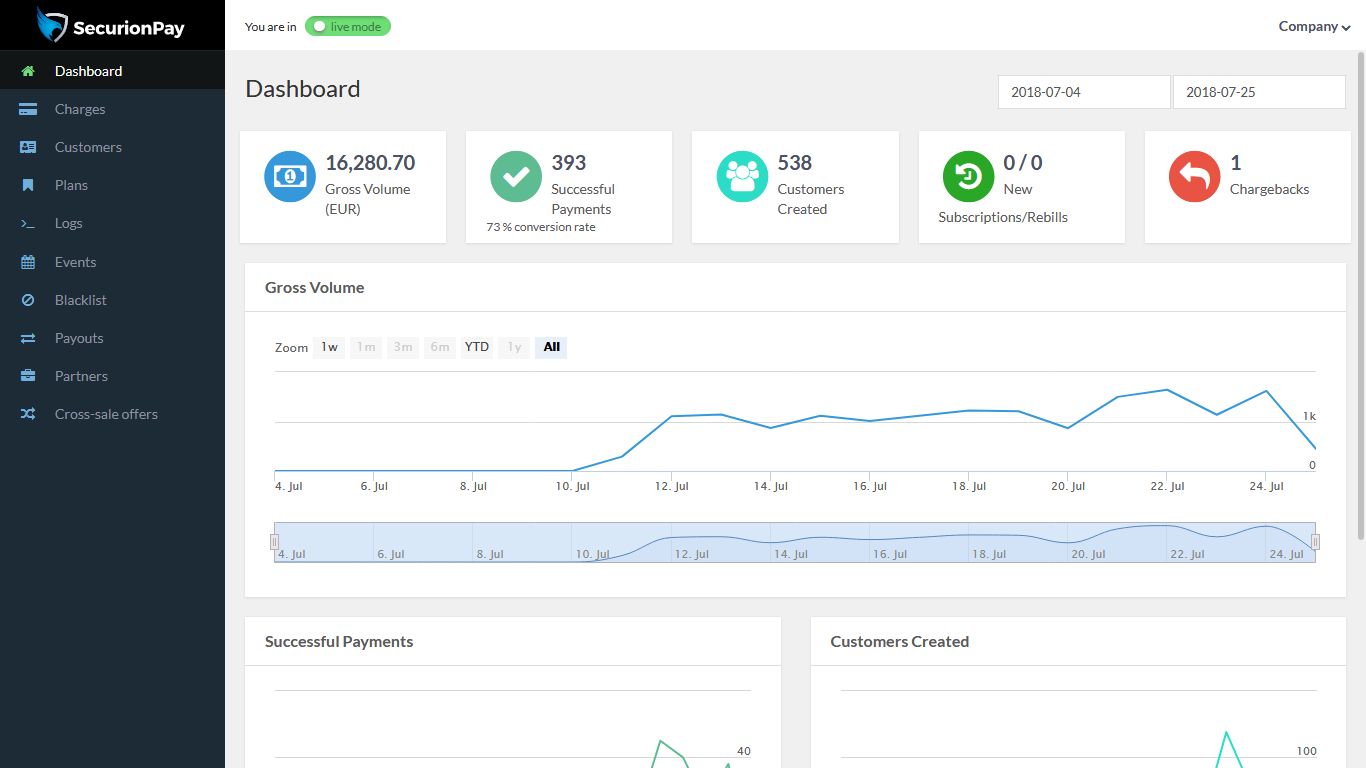 The main benefits of SecurionPay are its stable functionalities, security and great integrations.  Here are the details:
Easy Credit Card Transactions
Make your credit card transactions hassle-free with SecurionPay. The service provides you with tools allowing you to process credit card payments regardless of the current website design you have now. SecurionPay can be integrated into any with all website and turn it into an online hub for credit card payments. Major credit card brands are accepted such as Visa, MasterCard, Diners, Discover, Express, UnionPay, Maestro, and JCB.
Gets assistance with Conversion and Sales 
Make use of an intuitive checkout pop-up that is highly customizable. Let this assist you in converting browsers into buyers. Furthermore, you can configure these tools to add extra offers after the first transaction. This can help improve sales if done with clever additional offers. Introducing such cross-sales promotions can increase not just sales but influence business growth. SecurionPay also allows your customers to save their card information on site should they wish to experience faster sales transactions in the future. All of this is done with a robust set of security procedures.
Live Implementation and Easy Testing
You do not need to jump right in with SecurionPay. The service allows you to simulate transactions and successful charges first. When you get the feel and are satisfied, it provides you the option to switch from test to live and even back. You can do this anytime and it will not affect the flow of your business. With an easy drag and drop interface, anyone can try this functionality. If you know how to code or someone in your team does, you can further customize and add more features with just several lines of code.
Integrate
The checkout pop-up can be used in its standard form or you can customize it to your liking. You are given total control over this process and you can integrate this in your current setup with whatever program language you are using.
AI-based Security 
SecurionPay affords you multiple levels of security measures. Its PCI level 1 compliance assures you that your system and you cannot touch customers' sensitive information. With its machine learning capabilities, SecurionPay can detect patterns for fraud and intelligently mark transactions as suspicious or fraudulent automatically. The non-invasive 3D secure authentication feature helps you minimize the chargeback ratio without affecting your conversion rate. You can enjoy further security with features such as tokenization and blacklisting.
Cross-sales Feature and Cart Abandonment Minimization
Make your checkout process faster. With SecurionPay, the process only takes up 2 to 4 minutes of your customers' time. Because it can be integrated with any system, customers do not have to be redirected to other sites. This user-friendly flow is complemented with a "Remember me" option for loyal and frequent customers to minimize transaction times further in the future. It is claimed that business with SecurionPay sees an increase in their conversion rate by 19%. Those who use the cross-selling feature have reported an average increase of 22% in sales.
Educational Center 
SecurionPay has an online academy filled with instructional videos for merchants, developers, and prospects. You can easily go on YouTube and find more about how to implement the SecurionPay scheme and learn through short and engaging instructional videos.