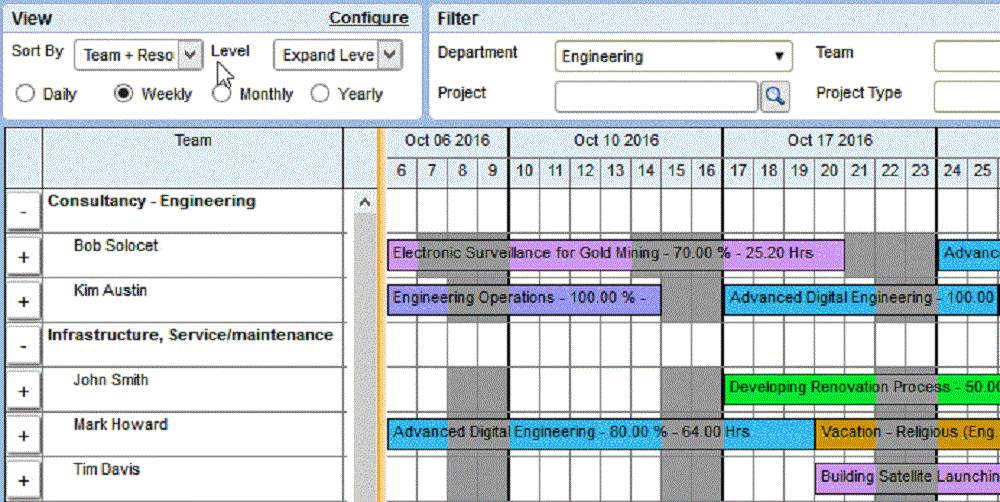 The main benefits of Saviom are its tools for effective allocation of resources, tracking report functionalities, live monitoring of resources, and updates as well as a notification sent by the system on various events. Here are more details:
Efficient Resource Allocation
Saviom is lined with all sorts of functionalities which aid organizations in solving the problems related to their resources. There are features for empowering firms of any scale to use global resources, monitor talent in real time, and accurately predict future resources. Also, it enables users all over the world to assign workers to projects more effectively in a bid in order to build a smart workforce while maximizing resource distribution.
Tracking Reports
One highlight feature of Saviom is its capability to provide users with real-time visibility, giving users live and instant availability and usage of tracking reports. These reports display all members against vacations, active projects, and other works. This allows for proper resource allocation by making sure that every resource is given an adequate amount of task. Furthermore, it provides different search criteria such as cost, locations, skills, and level of experience. Thanks to this, project managers are able to easily identify the best-suited resource of each project.
Real-time Resource Monitoring
With Saviom, users are able to see a real-time summary of excess and shortfalls in terms of resources. This aids businesses in forecasting the requirements for resources in the future and in the process makes it easier for them to pinpoint the shortcomings when decreasing staff turnover. Aside from that, firms are also able to manage last-minute hiring, formulate pipeline projects, and make better decisions when it comes to retaining, reallocation, or recruiting.
Notification and Update Features
Saviom can be set so that it provides notification for approaching deadlines, allocation conflicts, under and over utilized resources, and contract expiry. There is also a built-in approval tool which instantly delivers updates whenever a request for leave has been approved. After that, an accurate summary of overall resource availability made available together with the system automatically reflecting participant's or member's availability.