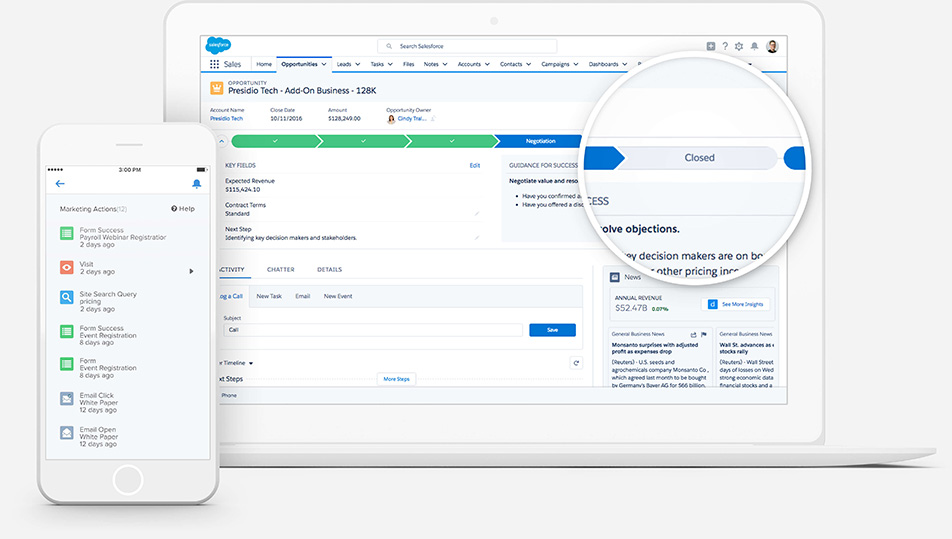 You can close more deals
Use the Salesforce opportunity management tool to get more sales opportunities. Plus, you can use the contact management feature to get detailed customer info such as activity, history, social mentions, discussions, and communications. The sales collaboration module makes it easy to track deals and look for useful info. On top of that, you can use the sales performance management tool to set metrics-based goals and highlight the good performances of your sales reps to create a competitive atmosphere in your team.
Get more leads
One of the benefits we consistently note in our Salesforce Sales Cloud reviews is that you can create campaigns, track clicks, and automate the sales process to get promising leads and reduce the sales cycle. You can use the various features of the app to create a systematic pipeline from lead generation to deal closure.
Speed up productivity
You can use the mobile apps for iOS and Android devices to take the software wherever you go. Work on opportunities, reply to promising leads, and log calls easily. Plus, the visual workflow enables you to quickly drag business processes such as expenses, discounts, and deals. Another big benefit is you can sync and share files and monitor changes in real time for improved communication between your team members.
Get more insights
Create weekly forecasts by viewing your sales team's conversions in real time. Use the dashboards and reports to gather data for detailed analysis and reporting. Finally, you can manage territories using the right model to set customer volume and boundaries, and assign leads and tasks more evenly among your sales reps. In this Salesforce review you can also find more in-depth information about its capabilities.