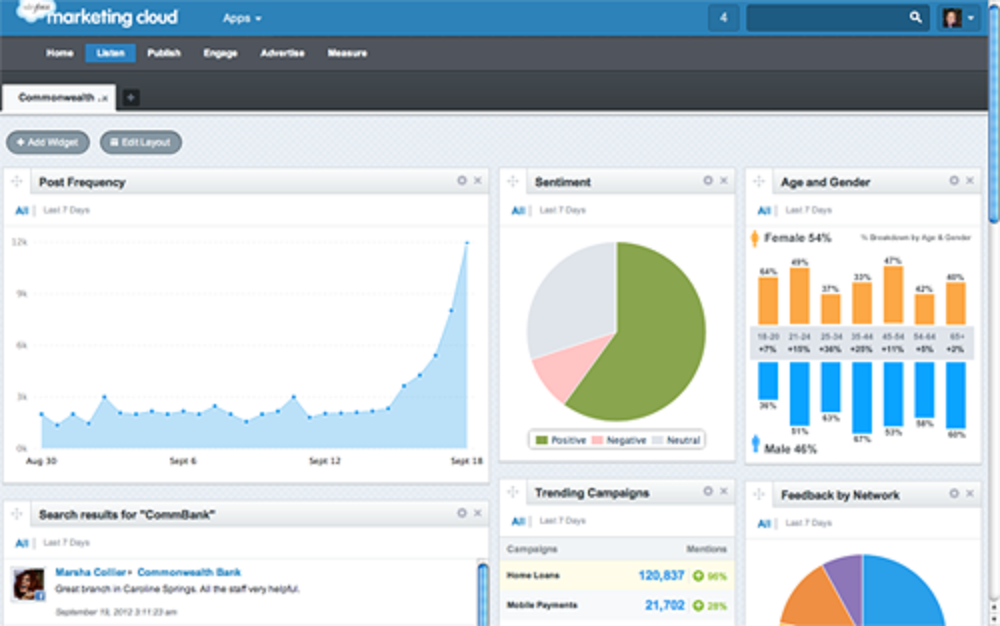 The benefits of Salesforce Marketing Cloud are its customer-centered marketing approach, smart marketing with the help of AI, connected interactions with customers, and optimized marketing processes. Here are more details:
Customer-driven approach
Salesforce Marketing Cloud provides users with a 360-degree view of each of their customers, allowing for a personalized experience for every client. Connecting every touchpoint enables businesses to convey the right message at the perfect time in the proper channel, which results in more meaningful and deeper journeys for each customer. Journey Builder and other various products of Marketing Cloud are developed to give 1-to-1 customer journeys for every departments and channel.
Intelligent marketing
Salesforce brings smarter marketing to the table by introducing AI to the workflow, named Salesforce Einstein, which can make personalized cross-channel customer experiences and create predictive journeys. One example of the AI's capability is Einstein Recommendations, which empowers users to convert anonymous site visitors and drive values from average orders. It also gives users suggestions on the next best product or content to recommend to their customers. Another feature of the AI is the Predictive Intelligence that utilizes customer behavior and data analysis to make predictive decisions.
Connected client interactions
One of the features that set the platform apart from other similar products is its capability to effectively provide connected solution throughout any device and channel with a personalized journey for each customer. Salesforce Marketing Cloud allows the connection of interactions anywhere. It also lets users start significant conversations in real-time and combine customer behavior and data.
Streamlined marketing processes
Salesforce Marketing Cloud is filled with products that can significantly enhance and automate various marketing processes. Using the system, users can easily execute cross channel campaigns, utilize pre-built templates, and streamline messaging flows. For example, Pardot is Salesforce's tool for marketing automation and it eliminates manual labor from business workflows, which enables employees to speed up the sales cycle.