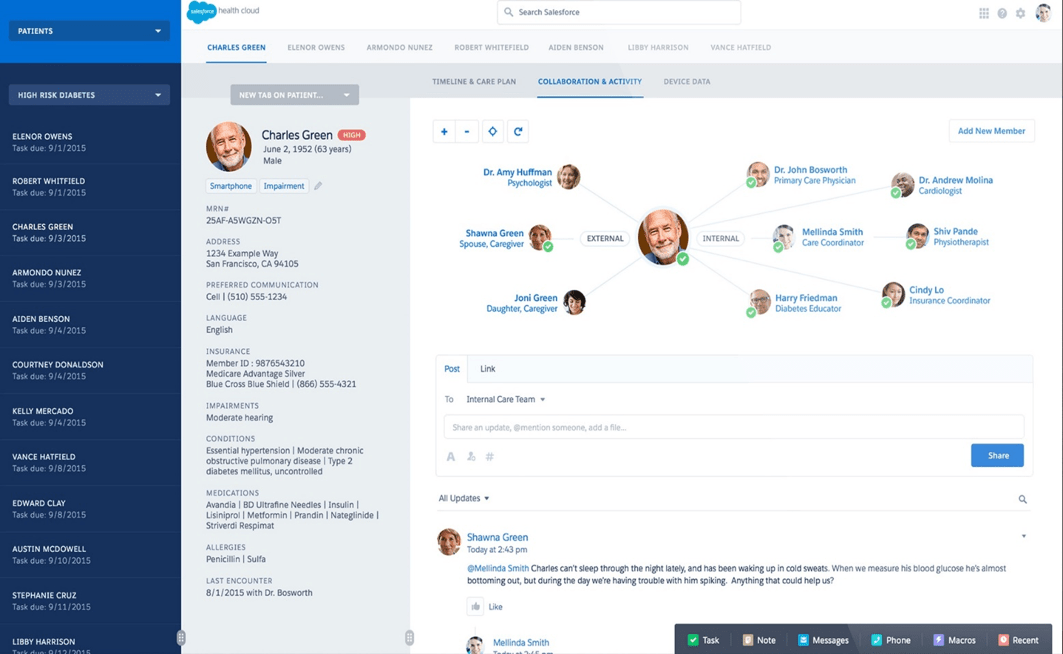 The main benefits of Salesforce Health Cloud are its cloud-based system that allows healthcare providers, patients, and payers to collaborate effectively with each other. Specifically, here are the advantages users can expect from the system:
Engaging System
Salesforce Health Cloud lets healthcare providers earn patient trust by having access to the right data at the right time. It allows care providers to access health records and integrate apps on a secure platform. Thus, converting a traditional system of records into a system that is both efficient and engaging.
Comprehensive View
The software allows care providers deeper understanding of each patient profile which includes clinical and non-clinical information, medical devices, HER details, claims and membership systems, demographics, and wearables being used — all in a single medium.
Personalized Approach
Healthcare providers can acquire important insights in patient populations that are categorized according to risk or condition, and offering targeted outreach using the platform's Einstein Analytics. Users can consistently monitor cases and prioritize tasks depending on their importance and need.
Users can also work together across the healthcare network while consistently sending reminders for member or patient follow-up.
Relevant Data Collation
The Health Cloud Assessments functionality allows healthcare providers to better understand their patients by acquiring actionable, timely, and more personalized insights. It lets them build and distribute surveys and assessments as well as review data to promote smarter patient care decisions.
Robust Security
Users can use the platform's Health Cloud and Salesforce Shield for compliance and PHI data protection. Salesforce is known for its strong cloud security that ensures healthcare data within the cloud are protected using enterprise-grade security.
Real-Time Connectivity
Salesforce Health Cloud allows members and patients to access and monitor their progress towards their specific health goals. The software lets healthcare providers connect in real-time and help address concerns or inquiries from patients, members, or family members of patients.