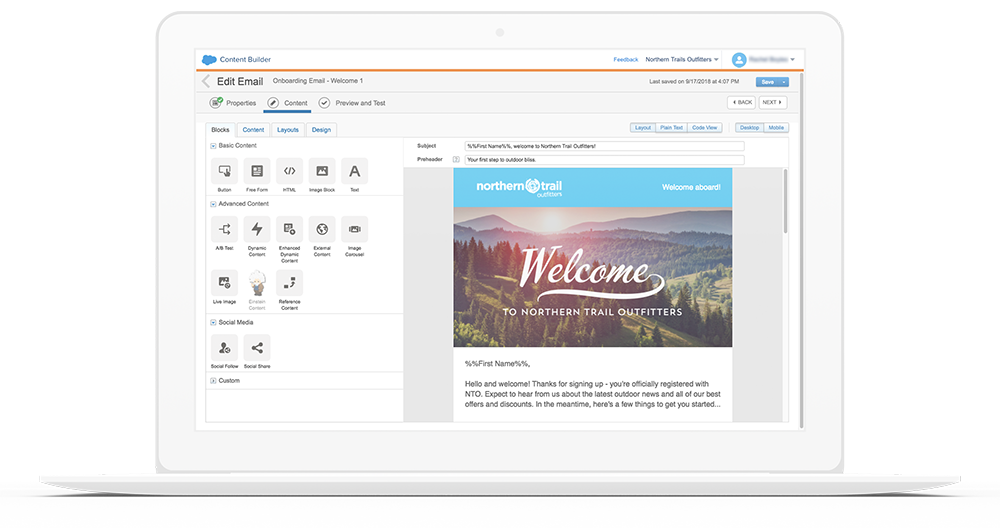 The main benefits of Salesforce Email Studio are multiple automation functions, creating dynamic emails, and targeted campaigns. Here are more details:
Multiple automation functions
Sending emails at the right time increases customer engagement and spurs businesses to succeed. That said, businesses can send prompt emails only if the process is automated. Salesforce Email Studio features multiple automation tools designed to streamline email marketing.
For instance, with Salesforce Email Studio marketing managers can easily schedule email send outs early in advance. It enables marketing managers to run campaigns that reach the intended audience at the most appropriate time. Besides, the solution makes it easy to automate report generation and data import. It also saves time and enables everyone in the marketing department to transfer data without a struggle.
Launch targeted campaigns
In addition, Salesforce Email Studio allows businesses to segment emails based on certain parameters. With segmented emails, marketing managers can create and launch more targeted campaigns. It also expedites the email send out process, especially when marketing managers have to handle millions of emails in a campaign.
Create dynamic emails
Better still, Salesforce Email Studio provides a set of mobile-responsive email templates. The email templates are fully customizable and can be personalized to suit the needs of a specific business. Marketing managers can use custom scripts or HTML codes to customize the templates and create dynamic messages.
Moreover, Salesforce Email Studio allows businesses to simplify and make their customers' journey more engaging. It provides tools that boost engagement at every stage of email marketing.