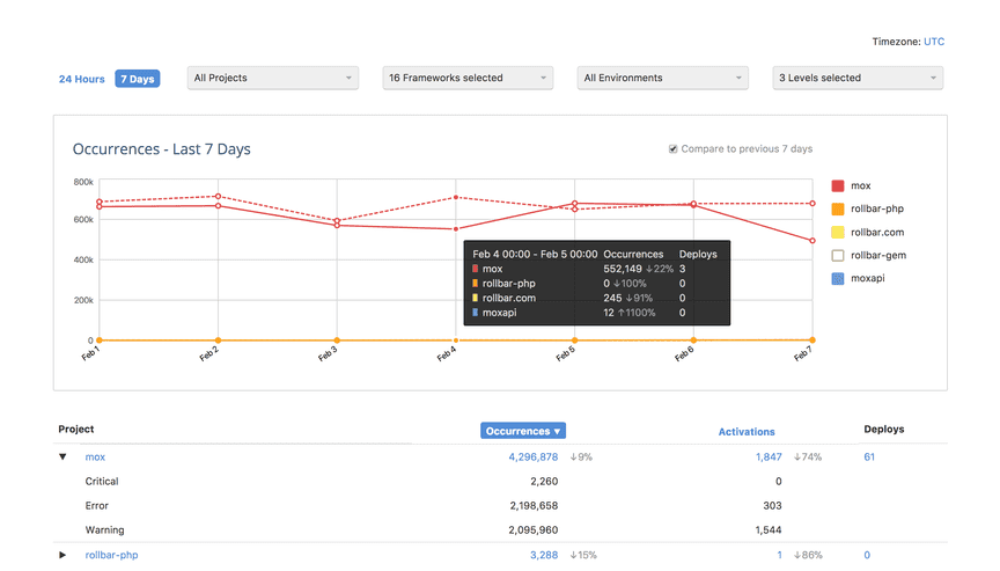 The main benefits of Rollbar are its easy setup,  comprehensive solutions in multiple languages, and secured communication. Here are the details:
Broken code is quickly pinpointed by Rollbar. Collecting contextual data is also something that Rollbar does. The data collected includes requested parameters, environment, detailed stack traces, URLs, affected users, and the like. Factors like host, operating system, location, occurrence, browser, and deployment are taken into account when users are given error trends to review, allowing them to have a more in-depth understanding of what is going on. Errors are automatically grouped by "root cause," although users can customize grouping rules to their liking.
Users can get alerted to critical errors through notifications that can be sent either by email or other services. Issues can be created in the user's preferred tracker and can then be assigned to team members so that tasks are distributed effectively.
Rollbar gives its users a 360-degree view of code deployment and its full history. Once a code is deployed, Rollbar goes to work and aids in understanding the users who experienced errors.
With a similarity to SQL that makes it easily understandable to users of the language, the Rollbar Query Language provides the users with a querying-interface that is rich. Even more, languages can be used thank to the API for Rollbar. Enhanced integration can also be achieved with the RESTful interface. Rollbar also allows for the sending of custom log messages, and users can be assured that communication is kept private and secure thanks to Rollbar's use of 2048-bit SSL encryption.