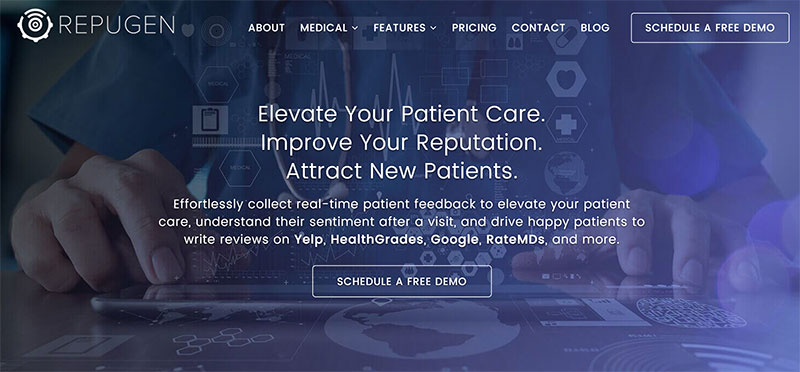 RepuGen is a user-friendly yet robust patient satisfaction and healthcare reputation management software application that enables doctors to improve their reputation. You can use this product to automatically gather feedback from patients in real time and encourage them to provide positive reviews to grow your practice and patient base.
RepuGen enables you to learn vital lessons from patient feedback and commentaries so that you can effectively address their issues and concerns. Plus, you can analyze their reviews and comments and take appropriate action to offer them a better experience.
Many people use Google to find the best rated doctor for their treatments. You can use RepuGen to get a higher ranking in Google as this software helps to significantly increase the number of authentic favorable reviews about you and your practice. Thus, this tool can be invaluable for you to beat the competition and attract new patients.
Patients write the best reviews immediately after their experience. RepuGen offers an immediate and automated patient outreach to ensure you get positive feedback from your patients. If you get bad ratings, you can quickly contact the patient to know what is the issue and rectify it promptly to convert their comment to a positive one.
Happy patients are instantly directed to review sites so that they can provide quick feedback about their clinic experience. As mentioned earlier, if a patient is dissatisfied, you get instant notification so that you can contact them quickly and correct their concerns promptly to perform effective service recovery.