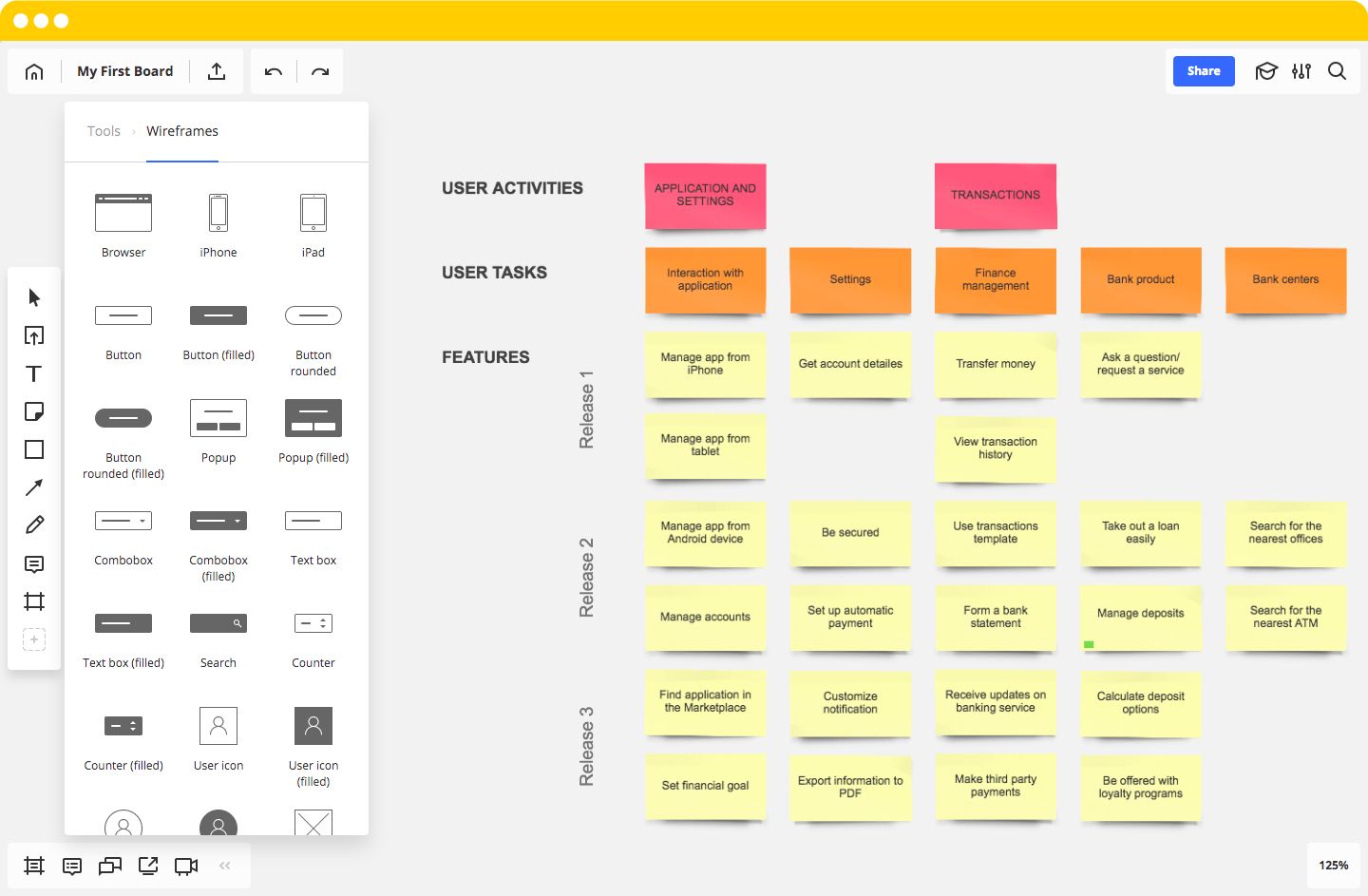 The main benefits of RealtimeBoard can found in its dependable functionalities that offer an excellent collaboration solution for businesses regardless of size and market. Specifically, here are the advantages users can expect from the system:
Flexible Platform
The software provides limitless flexibility. It can be customized for creative reasons. It can also be utilized as a whiteboard to write up ideas or build a map for a bigger project on the board for a team working remotely.
Limitless Ideation
RealtimeBoard give users the ability to generate schemes and mockups, leave useful feedback, write ideas, and add in stickers.
Real-Time Collaboration
Thanks to the platform, users can interact with each other in real-time using robust visual tools, discussing ideas within board chats, make video and voice calls, and creating tagged comments.
Comprehensive Reports
RealtimeBoard allows users to organize the bigger picture of their organization without losing sight of important details. Through this software, users can see the progress of their projects and business ideas while keeping things organized.
Mobile Compatibility
The platform is compatible for use in both iOS and Android devices. It'll keep agents connected with each other no matter where they are located.
User-Friendly
RealtimeBoard can be utilized by novice users, does not have any learning curves, and will not entail costly training. As soon as users create their account, they can onboard their members, and begin collaborating immediately.
Unified Data Access
The platform is an excellent medium for housing data. It comes with essential tools to help accomplish the different tasks, which can be accessed by authorized members of the team. 
Improved Workflow
RealtimeBoard offers an easy approach to organizing even the most complex workflows. Users can use it to collate ideas, generate notes, create wireframes, and share them with clients and team members.
Third-Party Integration
The suite provides integration with today's popular email service and storage providers including Trello, Dropbox, and Google Drive. It makes work simpler and eradicates obstacles seen in migrating data from one system to the next.