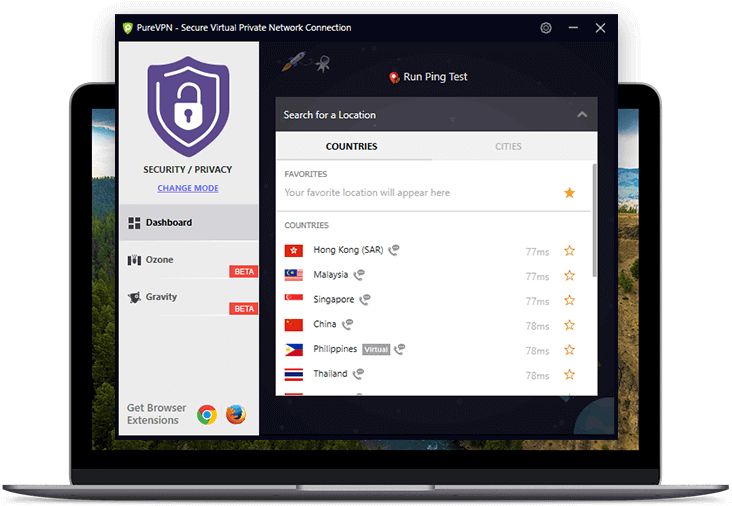 The main benefits of PureVPN are its high number of virtual server locations all over the world and enabling its users to establish an effective and secure data tunnel globally. Aside from these, the VPN offers additional benefits that include:
Multi-Operation Modes
PureVPN operates on several operation modes. Users who prefer to stream content constantly can take full advantage of its Streaming Mode as it provides consistent connectivity in stream-heavy websites or applications.
Third-Party Compatibility
The software offers support for today's major platforms including iOS, Android, Mac, Linux, and Windows operating systems. Users can even download extensions from their Firefox and Chrome browsers. What's more, PureVPN can be manually configured to work on routers, gaming consoles, and Android TV.
Wide Server Availability
PureVPN has more than 2,000 servers in over 140 countries. Currently, their servers can be seen in North America (500+ servers), Africa (70+ servers), Central America (70+ servers), Europe (700+ servers), Oceania (80+ servers), and Asia (300+ servers.
Top-Grade Security
The software enables users to set up their security level preferences. These preferences can range from AES-256 (military-grade encryption) to zero encryption. If users are unsure about their security protocol, the VPN will choose the preferred option automatically for them.
Anti-Logging
PureVPN recently upgraded its privacy policy and is now on the same level as today's trust VPN providers. The VPN does not store logs or sensitive user data.
Torrent Friendly
The VPN is torrent-friendly thanks to its P2P servers that have been highly optimized for users from all over the world. Users can easily shield their P2P traffic with an add-on, an important component for those who make torrenting their primary source for extracting content.