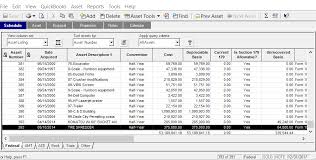 The main benefits of ProSeries Fixed Asset Manager are its automated asset record-keeping and tracking, properties and financial status view for continuous upkeep, and ready-made templates for financial reports. This also applies to your business gains from your sales for guided decision-making in your future trades and acquisitions.
Along with the automation of the recording of your properties, the app also includes an automatic calculation of your depreciation to forecast your assets' values throughout their lifecycles. This allows you to resolve any disposals you need to do to maintain your financial upkeep. This applies broadly to assets such as estates and luxury cars.
The software gives you template reports such as General Ledger reconciliation, depreciation reports, and property projections. If these do not cover your report needs, you can create your own with the Report Wizard tool.
ProSeries Fixed Asset Manager gives you the authority to personalize your interface. You have the option to remove features that are not utilized to minimize visual clutter and maintain a workspace that fosters efficiency and productivity.