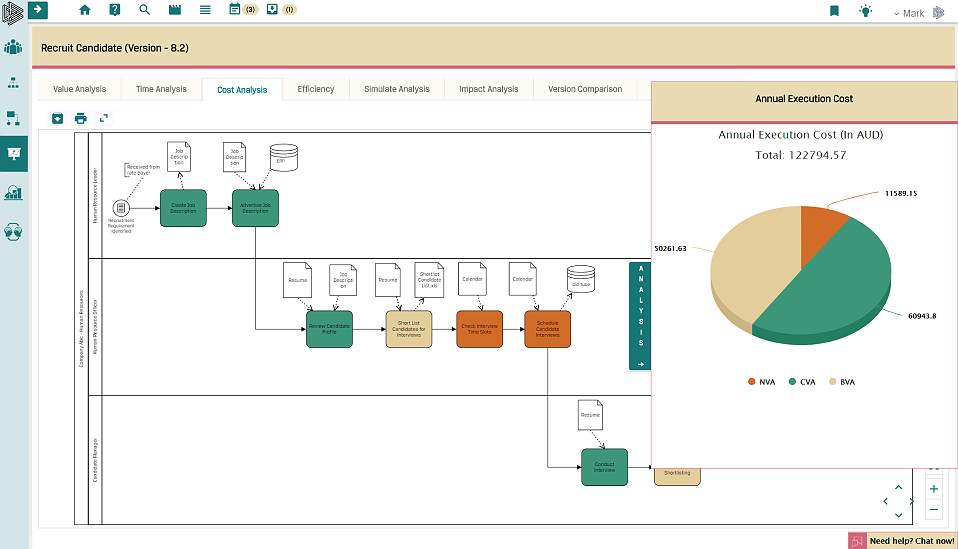 Boost Productivity
To enhance productivity, you should produce the same output at reduced cost, energy, manpower etc. PRIME BPMenables you to implement effective strategies to improve output and productivity and reduce cost as well.
You can create process maps to define the start, following steps, and completion of a process. This enables your organization to operate in a transparent manner which provides the opening for process analysis. Utilize this analysis to identify delays and costs and remove them to boost productivity.
Enhance Process Transparency
PRIME BPM assists you to record and centrally store all process info. Besides the process map, it documents other process attributes like RACI, task details, business rules and others. Plus, it records info on standard operating processes as well as the waste within a process. All team members can view this info via the collaboration portal and provide their ideas for performance improvement.
PRIME BPM reviews reveal that the software also presents a real-time overview of process performance as per Key Performance Indicators (KPIs). You can integrate KPIs with real-time process performance info. This enables your company to learn if a process is performing according to set KPIs and triggers notifications if the process does not do so. Thus, this feature provides real-time process transparency.
Achieve ISO Compliance
PRIME BPM empowers you to meet ISO Compliance. First, its Process Compliance and Audit feature assists you to document the ISO audit dates and compliance due dates, and notify concerned employees about upcoming compliance events.
Second, use the application to record your business processes and communicate details about them to your employees as well as the compliance body.
Besides ISO Compliance, PRIME alerts you about requirements for government compliance, financial compliance, taxation compliance, and license renewal. The software documents compliance requirements against the business process and enters them in the notification engine.
Improve Your Customer Service
The PRIME suite offers the tools you to need to continuously enhance your customer service. You can document your processes and each process map displays the touch points with customers. On top of that, the suite eliminates broken processes by showing the link between a business process and its succeeding and preceding processes.
Analyze your processes to learn about high-frequency, high-volume processes, and those with low customer satisfaction ratings. Use this info to promptly resolve the issues to boost customer service.
PRIME Analyzer empowers you to spot delays that impact your customer service. Then, utilize the PRIME Improver module to eliminate superfluous activities to minimize delay time. This helps you to further enhance the customer experience.