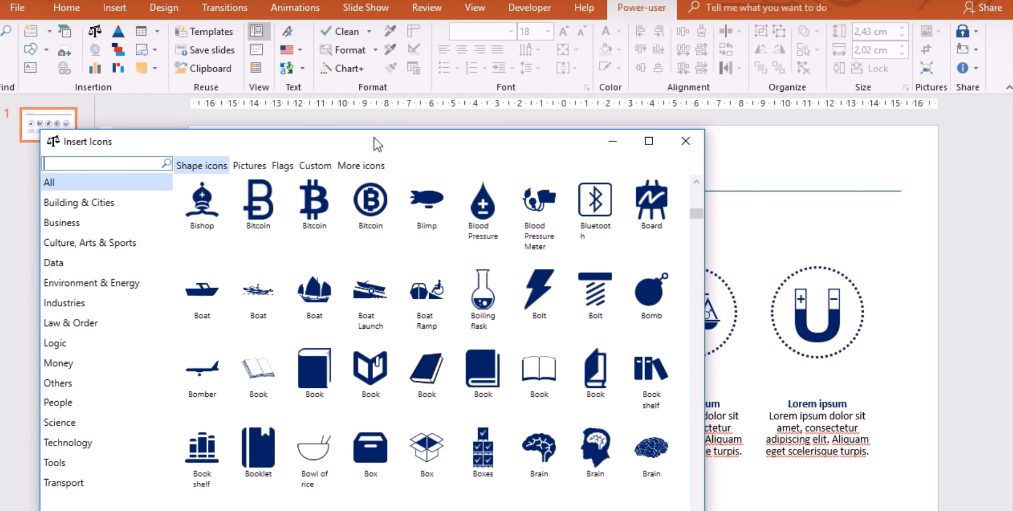 The main benefits of Power-user are it has a rich template library and visual content archive that make your presentation more polished. Here are the details:
Templates Library
Power-user's library offers 300 highly customizable and reusable templates to choose from, which you can also access even when you are offline.
The selection includes PowerPoint templates for general use, such as creating org charts, creating CV, pros and cons analysis, etc. There are also templates for strategy and framework presentations, such as SWOT matrix, BCG growth matrix, McKinsey 7S, strategy map, diagram-based, and others. Templates for animated presentations are also available.
Power-user also allows you to create your own templates by saving slides, which templates you can reuse for another presentation. Organizations using Power-user can also create a shared library that employees can access the templates used by the company.
Visual Content Ready
No need to scour the Internet for maps, vectors, diagrams, charts, and pictures that fit the standards of a professional-looking presentation.
Power-user's plug-in offers access to a large collection of editable maps (world, by country, by region, by city, etc.), more than 2000 icons, 14 types of diagrams (matrix, Harvey balls, gauges, etc.), charts (Waterfall, Gantt, Chart+, etc.), high-quality and royalty-free images, and more.
Polished Presentation
Finding and removing unnecessary elements in your presentation such as double blanks or spaces, empty placeholders, unused layout slides, etc., can be time-consuming. Doing this manually also means there is always a risk of missing one or two or more elements that should not be included in the final presentation.
Power-user's plug-in offers a fast and easy resolution to this problem with its Clean Presentation feature, which allows you to remove these elements from your presentation. By running this feature, you will have access to a selection of "anomalies" that you can remove all at once with just a couple of clicks.