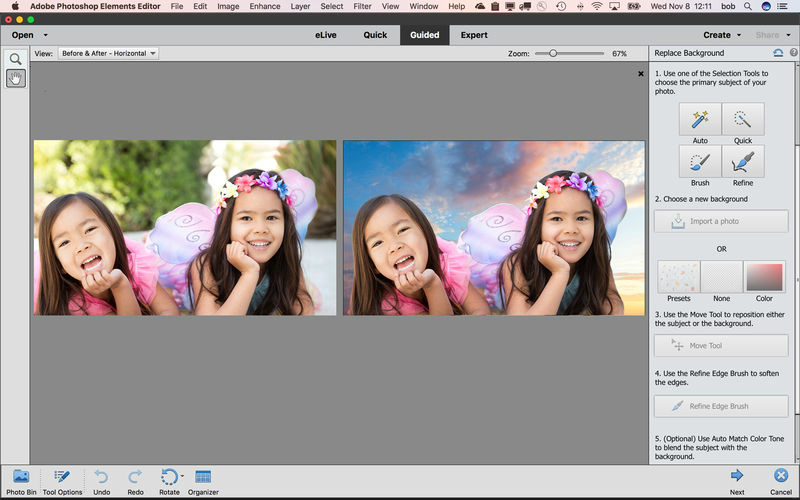 The main benefits of Photoshop Elements 2018 are its automatic organization of photos, guided and intelligent editing, and its sharing feature. Here are just some of the benefits they can get by using this photo organization and editing suite.
Organization
Automatic organization and photo sorting enable users to swiftly scan hundreds of folders and have them sorted by people, date, subject and more. The Auto Curate feature helps users find photos through attributes like Smart Tags, faces, and more. Photoshop Elements 2018 also helps out with tagging by suggesting tags based on animals, sunsets,  birthdays, etc. Keywords such as people, events, and places can also be used to search for photos.
Guided Edits
Users who may be as familiar with photo editing will find Photoshop Elements 2018's guided edits a particular help to them. These guided edits can help users replace backgrounds or have a more interesting image be the background of a photo's subject. Scrapbookers and crafters can also add overlay effects that are artistic with just one click. Other guided edits users can play around with include converting photos to text, double exposure creation, and photo painting. Multiple effects can be added to photos and add motion blur. Single photos can be made out of a combination of multiple shots. Users can also remix photos, create a panorama and group shots, and add frames that are customized.
Intelligent Editing
Photoshop Elements 2018's AI makes precise editing effortless. With it, open eyes can be copied from a different photo and put it in another where the person may have blinked. Backgrounds can be made crisper and haze removed, making for captivating landscape shots. Camera shake removal, fine-tune filters, and custom looks are some of the additional intelligent editing features included. Other features include crop suggestions, loose painting over photos, and the ability to automatically fill up a background.
Creations and Sharing
With Photoshop Elements 2018, showcasing photos is easier than ever. Photos that have been enhanced and edited can be shared as collages, collages, or calendars on social media. Facebook users who want to catch attention can also use the software to blend their profile and cover photos.