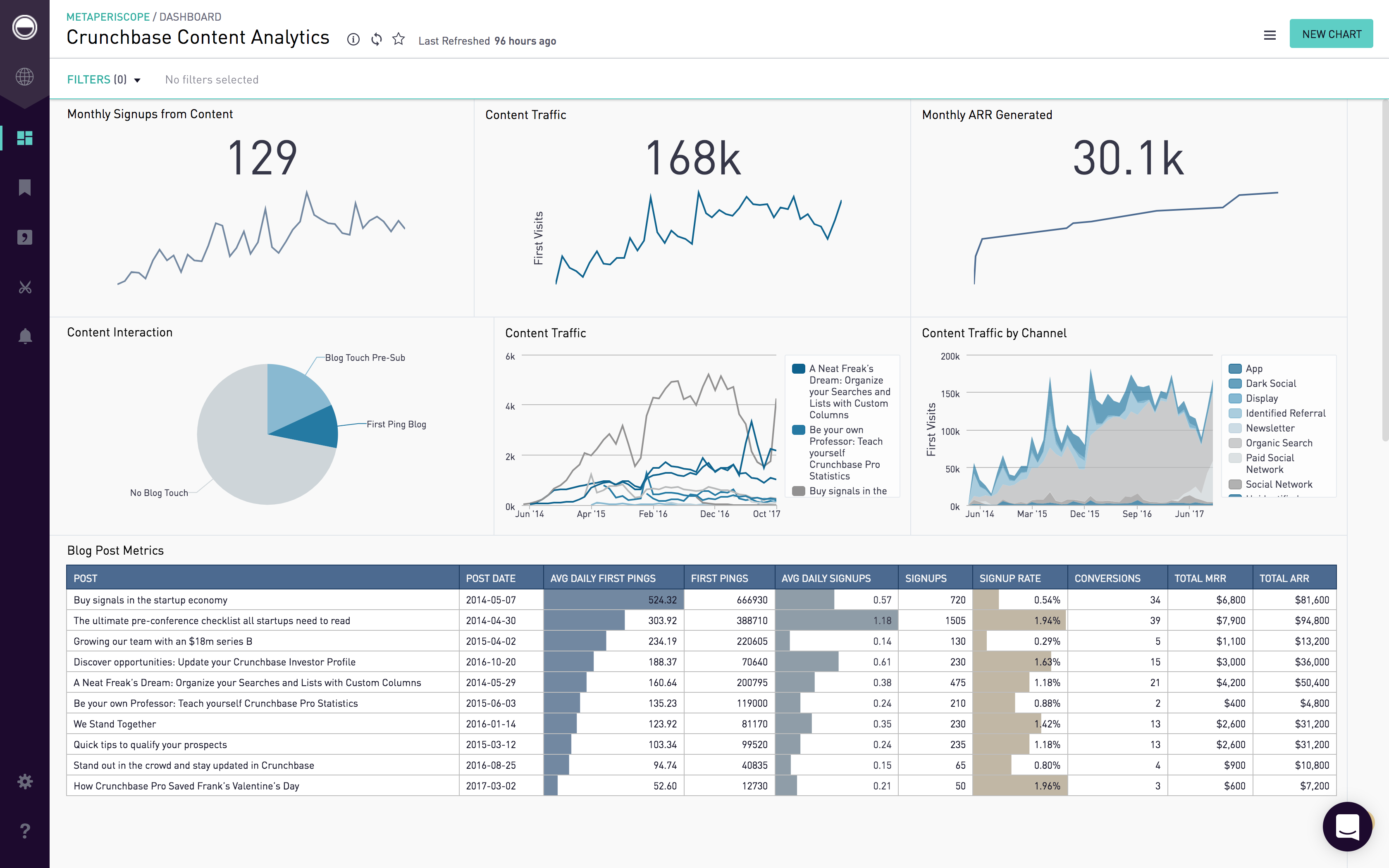 Easy-to-use and Comprehensive Analytics
Periscope Data by Sisense does not only help you collect and analyze data proficiently. It lets you do this with relative ease thanks to its very intuitive user interface. Also, its powerful features allow you to create models and test them in order to benchmark your generated insights and future policies. Thanks to Periscope Data being friendly to SQL, Python, and R, you can also easily make visualizations of complex filtered data that are shareable and relatable. 
This means that you can create detailed reports. Also, your colleagues can create reports according to metrics that matter most to them. In this way, your organization can get a holistic view of pain points and opportunities surrounding it. Furthermore, these reports are easily generated within the system and you can share them in different formats. 
With ease-of-use and powerful analytics combined in a platform, Periscope lets you write codes and create visualizations even if you have limited programming skills. Because of its power, you can save time and concentrate more on extracting relevant insights that you can use to act in the future. This is all made simple by easy controls including the drag-and-drop interface for calculations and choosing a variety of charts. 
Query Management Made Easy
Because Periscope Data supports SQL, Python, and R, you can make queries in these three different languages. Furthermore, in the SQL editor, you will find a comprehensive revision history for utmost control. There are also functions that make your life so much easier such as the snippet function, exploration function, and the autocomplete feature. Also, you get a built-in statistics summary to get you acquainted with relationships and trends without manually browsing every data point. 
Thanks to its R and Python support, you can create visualizations much easier. Also, because of such capability, you can even reuse codes that save you time from manually entering them. Furthermore, the platform enables you to employ not just prototyping but also natural language processing. Therefore, queries are just as seamless as they come. 
Reports and Collaboration
Periscope Data does not only allow you to create reports but also allows you to create them with colleagues. The platform allows data professionals to work together in filtering, manipulating, and visualizing data for actionable insights. This is all in a single end-to-end platform serving as a centralized hub for different data sources. 
Furthermore, your data professionals are not only allowed to collaborate with each other but also with the departments that handle processes that they support. Thanks to the different kinds of charts available on the platform that range from box plots to radar charts and waterfalls. Moreover, teams can choose to create text overlays to highlight specific data that they feel relevant in various processes. 
Reports can also be synthesized in various ways easily. Again, this is because of powerful analytics computations and templates that are built into the system. This allows for quick report generation and insight creation across your organization. Add in the shareability of such data, you get a platform that doesn't only churn out reports but also a tool that gets the conversation going inside your organization. From these collaborative sessions, you get more chances to create new knowledge and ways of looking at familiar data. 
Additionally, with Periscope Data you get unlimited members free of charge. 
Security of Information
What's the use of information for building a competitive advantage if it is already compromised? Not that much. This is why Periscope Data is built to be secured using HIPAA-HITECH and SOC 2 Type II certifications. It's not only that. You also get controls like the aforementioned permission system. You also get an intrusion detection function and a data recovery feature. Moreover, you get an incident management system to boot. You can rest assured that your data is also encrypted and safe from malicious agents.