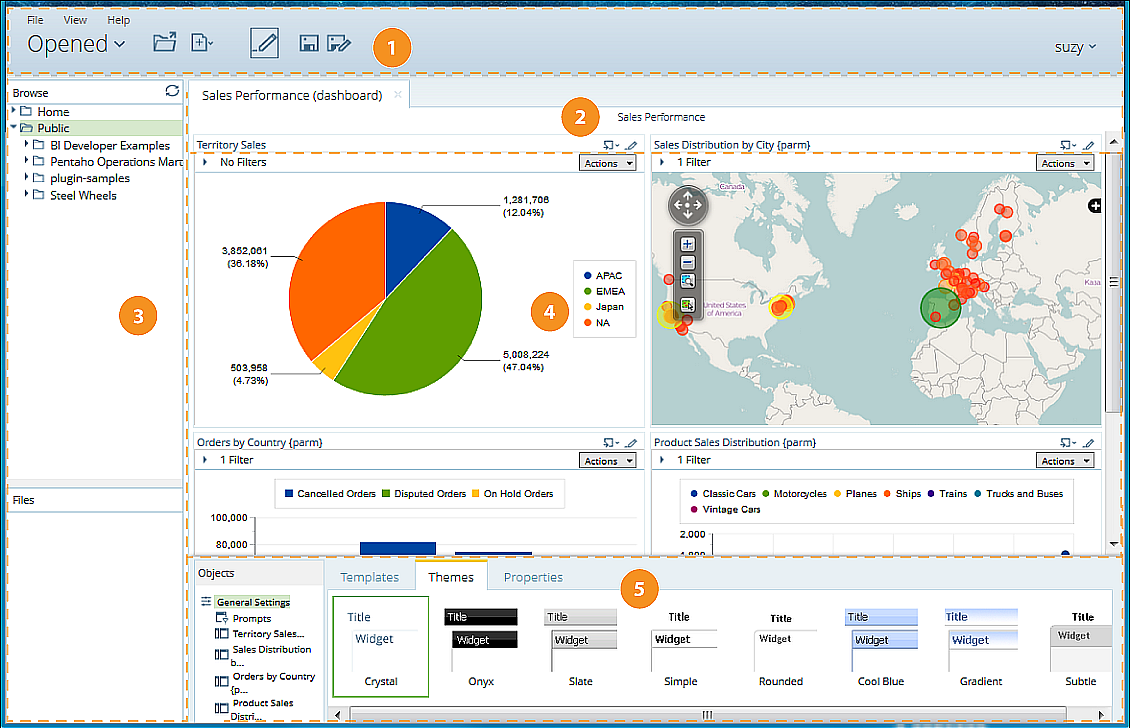 The main benefits of Pentaho are its comprehensive feature set, customizations and general usability.  Details for the benefits of Pentaho are itemized below:
Real-time Analysis & Beautiful Visualizations
The comprehensive analytics suite Pentaho helps businesses get more from data by providing real-time analyses with simple yet thorough visualizations. These provide users with easy-to-understand data that they can interact with through simple manipulations. Users can home in on particular statistics and figures and mine relevant information to form valuable insights. Pentaho's analyses come in real-time, employing an in-memory data caching scheme. Furthermore, the suite allows users absolute control through its highly customizable and intuitive user interface and dashboards. These functions are web-based and have many various filters that your team may find useful. Pentaho's data integration software also gives users the capability to blend different types of information pooled from different sources like other analytical databases, relational databases, NoSQL, and Hadoop among many.
Easy-to-Use Intuitive Tools
All of these capabilities mentioned before are offered by Pentaho for all types of users. The Pentaho team understands that not all business users have the technical skills or the time to learn the specialized knowledge required to make and make and operate analytical tools. This is why Pentaho's interface and dashboards are in an easy-to-use intuitive format. This makes it easy for users to mine insights and see-through patterns and anomalies in interactive visualizations that may have or can affect performance. There are many types of visualizations that range from geo-mapping to heat grids that make important insights from complex data more attainable. Pentaho also makes data federation and integration become easy procedures for different data types like Excel and Hadoop.
Be More Comprehensive
Integration and federation of data are all fitted into a visual presentation through dashboards. These reports are not only considered in depth but also in breadth. Volumes of data are analyzed at lightning-fast speeds because of the in-memory data caching. This improves the depth and scale of the analyses. Data integration tools blend and manage information from many sources. This extends the scale that Pentaho lends its analytic powers too. Furthermore, Pentaho even integrates to other business analytics tools and applications including Google Maps. Users can get more comprehensive analysis by outsourcing computing and analytical procedures to Pentaho.