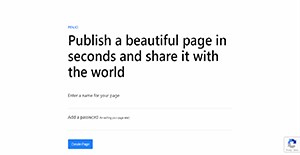 The main benefits that users can gain from using Pen.io are anonymous publishing, simple and protected editing, drag-and-drop function, and its cost-free nature. Here are some details:
Anonymous Publishing
With Pen.io, you can anonymously publish your content, as it does not require you to create an account to use the platform. This is a big advantage for those who want to protect their privacy while being open on the web.
Always Free
Pen.io is a free software. It offers no plans for additional features whatsoever. Business and personal bloggers alike have access to the same set of tools and because of this, anyone can utilize the site. This highly benefits startup businesses and writers who do not have the funds to subscribe to a paid online publishing platform.
Protected Editor
Instead of an account, Pen.io users only needed passwords for their sites to ensure the security of content and to limit access to editing.
Simple Editor
Pen.io is a pared-down, text-based content publishing program that focuses mainly on writing, assisting you in formatting your text automatically to maximize the platform. Hence, there is no option for additional customization so you can concentrate mainly on writing.
Drag-and-drop Function
Even though there is no option for inserting images and videos, links can be added to your pages and this is done by simply clicking and dragging the image or video clip and dropping them on the page you are working on. This instantly creates a link to the page you want to direct your readers to.