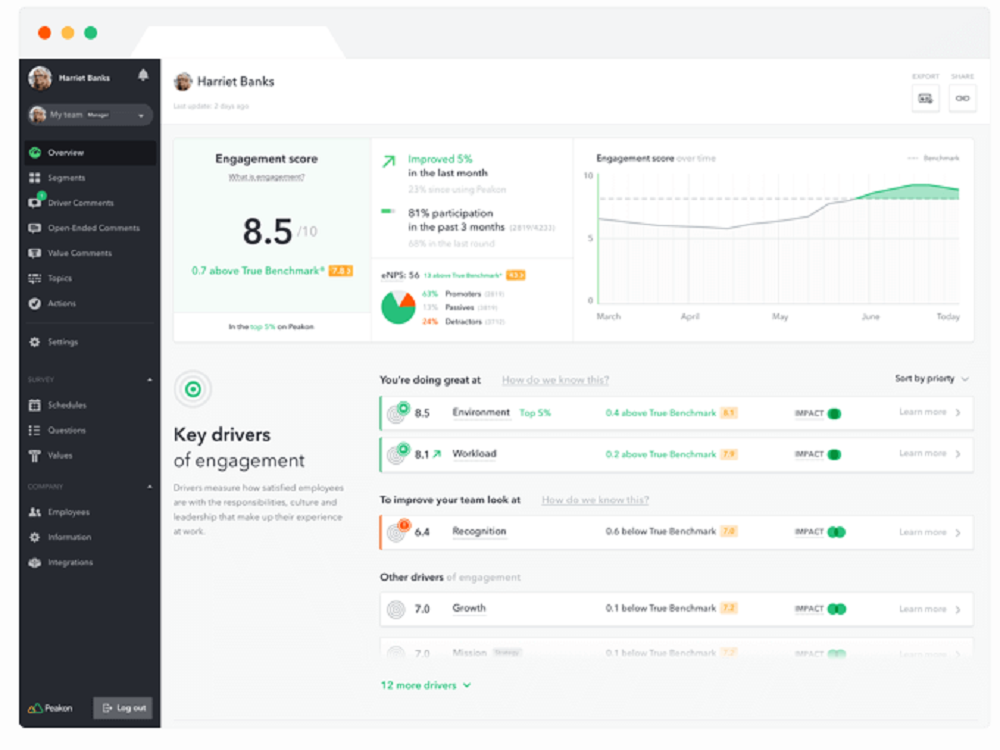 The main benefits of Peakon are its capabilities that help boost a team's productivity, customizable questions, seamless and effective two-way communication, and actionable data, push notifications, support 20 languages, reliable support. Here are more details:
Improvement in Team Productivity
Peakon automates the most significant aspects of employee engagement such as feedback collection, lifting up these burdens off a team's shoulder and giving them more time to concentrate on other tasks and do more.
Customizable Questions
The platform provides companies with questions from an extensive database created from years of organizational psychology research. Companies can use the questions as is or customize it to fit a situation. If nothing fits their need, users can also create their own questions and even add open-ended ones.
Seamless Two-Way Communication
Peakon does not only help the management talk to employees, gather employee feedbacks and analyze the data. It also gives employees an opportunity to make their opinions known. The platform supports anonymous communications that allow employees to express themselves, their ideas, and concerns without having to worry about retribution.
Actionable Information
After acquiring employee feedback, the software will turn the acquired information into data that managers can leverage in developing a stronger and better team. This platform helps managers learn which areas need improvement and discover the strengths as well as weaknesses of their teams and individual employees.
Push Notifications
Peakon features push notifications or email that keeps its users updated. The app sends alerts whenever an issue is encountered so the management or the users can take actions immediately.
Supports 20 Languages
The platform is available in over 20 languages so international users can navigate and utilize it using the language they are familiar and most comfortable with.
Reliable Support
A dedicated representative is assigned to each client to help them maximize the capabilities of the platform. Online and on-site training for current and new users is also available.