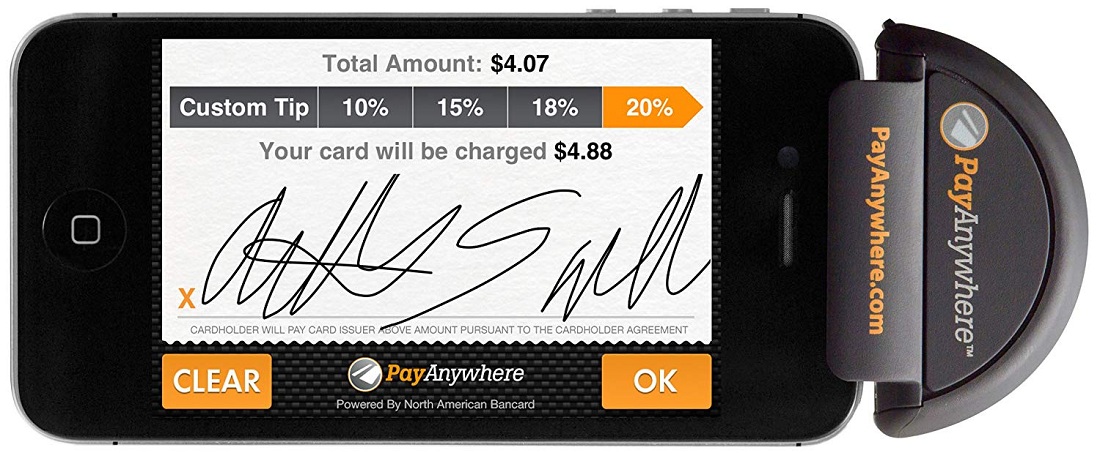 The main benefits of PayAnywhere Mobile are its cost-efficiency, support for multiple types of the card reader, built-in item inventory tool, and strong protection for each transaction. Here are more details:
Cost-Effective
PayAnywhere Mobile has two types of the card reader. The first is the two-in-one which is provided for free to approved and registered merchants. The other one is the three-in-one card reader that can be purchased for a small price. Thanks to this, businesses are able to afford the product without having to stray from their budget while increasing their profits by being capable of accepting various types of payments. The transaction is transparent as well so that businesses are able to monitor how much of the sales went to the transaction fee.
Two Types of Card Readers
PayAnywhere Mobile supports two types of card readers, each having different functionalities. While both are able to read EMV cards and magnetic stripe, only the three-in-one can accept NFC or contactless payments. A two-in-one card reader, on the other hand, has a feature for connecting through Bluetooth. Thanks to this versatility, merchants won't have to worry about turning away customers just because they aren't able to process their card payment.
Portable Item Inventory
The accompanying app that comes with PayAnywhere Mobile features a built-in library of items. This can be utilized by businesses to store the images of their products together with additional pricing options so that users can easily offer discounts at the counter.
Stringent Security Measures
To actively protect clients from digital and fraudulent attacks, PayAnywhere Mobile employs data encryption as well as tokenization for each transaction. Thanks to this, card details are protected with a layer of encryption that shields it from access to cybercriminals. Tokenization also provides the same benefits but it utilizes unique transaction codes each time in order to hide the relevant numbers of the card.