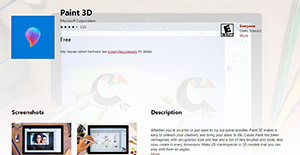 The main benefits of Paint 3Dise are its familiar interface, available templates, and easy-to-use features. It is like that of the Classic Paint tool of Microsoft, but with added features that allow you to create 2D or 3D models. For beginners, you can start from scratch or from available templates in its library. You can also use it from the get-go because it is a built-in feature of Windows 10 and is free.
Basic tools based on the Classic Paint tool are still available such as brushes, Magic Select, 2D, and 3D shapes, and text options. The application additionally allows you to transform drawings from a 2d  sketch to a 3D model effortlessly.
Paint 3D also integrates with Remix 3D seamlessly so that you can import, edit, and share your artworks and even export your videos of your process from scratch for others to see in the community. Remix 3D not only gives you the visibility of your artworks on the web but also helps you get inspiration as you browse through the designs of other artists.