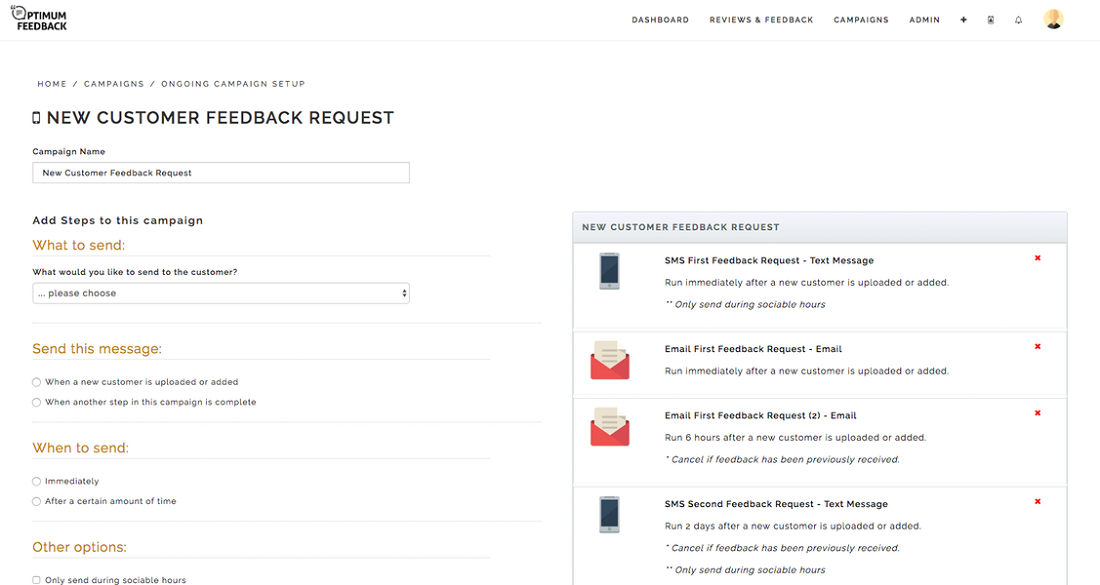 The main benefits of Optimum Feedback are its automated feedback solicitation feature, its capability to provide customer feedback immediately and its deliverance of real-time alerts on certain events. Here are more details:
Automates feedback solicitation
The system can automate the process of review solicitation through its innovative technology on analysis and facilitates in determining the best time for asking customer feedbacks. This automation shortens the time for giving negative and positive feedbacks, suggestions, comments and more. This results in more immediate addressing of issues and provides better customer experience.
Provides immediate and relevant customer experience information
Optimum Feedback is able to assist in the immediate identification of changes in client trends and behaviors. The system provides you with firsthand information about the way customers value your products and services over a certain period of time and based on tangible customer signs. With this information, achievable targets can be set for your managers in accordance with customer satisfaction and feedback.
Positive genuine reviews are required for ensuring customer satisfaction and successful business operation. Due to this, the system aids in determining ways for your business to receive voluntary reviews without the need to provide incentives like giveaways and discounts.
Delivers real-time notifications
Optimum Feedback provides users with real-time alerts and notifications every time your company, service, product or brand gets a mention in a negative way. The notifications can be set so that alerts can be received through calls, emails, and SMS. Specific personnel can also be included which provides them with instant notifications for every negative mention involving the company.