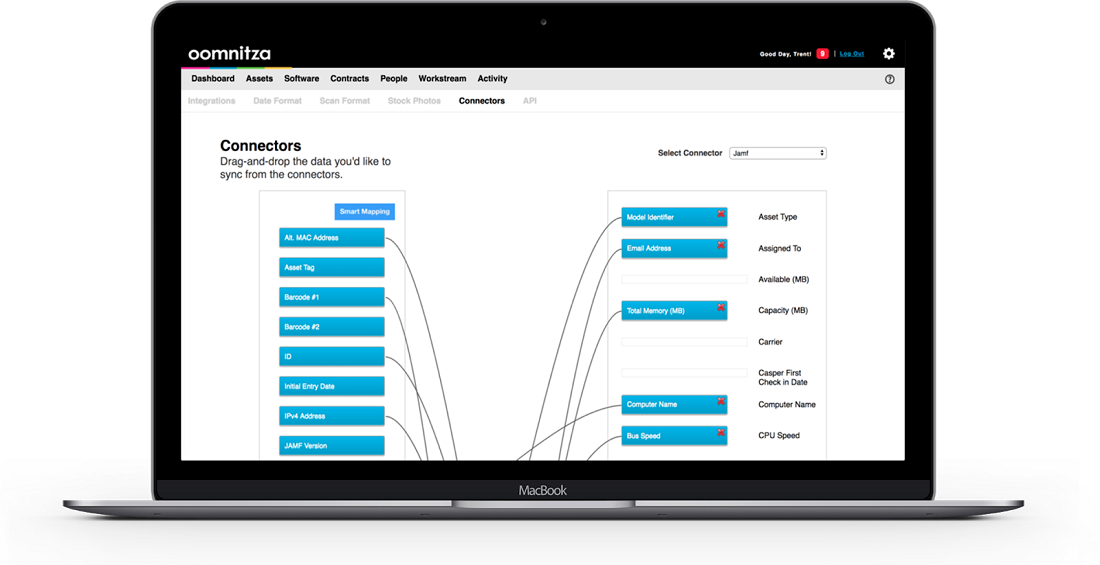 The main benefits of Oomnitza are its capability to gather data automatically, mobile management features, an instant overview of assets, map-pinned assets tracking, and automation of various redundant tasks. Here are more details:
Automatic Collection of Data
Thanks to Oomnitza's robust integration capabilities, it can automatically collect data from the assets manufactured by various companies such as Apple and Dell. If this feature is combined with the system's drag-and-drop functionality, the process of importing essential asset data in the platform is further made more efficient.
Mobile Management
To make asset management accessible, the platform provides users with the capability to make their very own custom mobile applications through the drag-and-drop configurator. This way, team members can add, edit, and search for assets easily regardless of where they are.
Assets Overview
Oomnitza is equipped with a high functioning dashboard that provides real-time essential information about IT assets in just a glance. This ensures that the generated reports are always updated which is especially useful for decision-makers since they have a guide they can follow for making intelligent choices.
Pinpointed Assets
Most of the similar solutions today display assets through text only. Oomnitza takes that to the next level by aiding administrators in looking for corporate Things. This is done by showing their exact location on the map. Settings are also updated in real-time which means that IT asset managers are notified the moment location changes.
Automation of Redundant Tasks
It professionals take a lot of time in working on redundant tasks so the time they could've to spend on more critical jobs is spent there instead. To remedy the issue, Oomnitza provides businesses with workflow automation tools that can make work processes run more smoothly and with fewer bottlenecks to worry about.