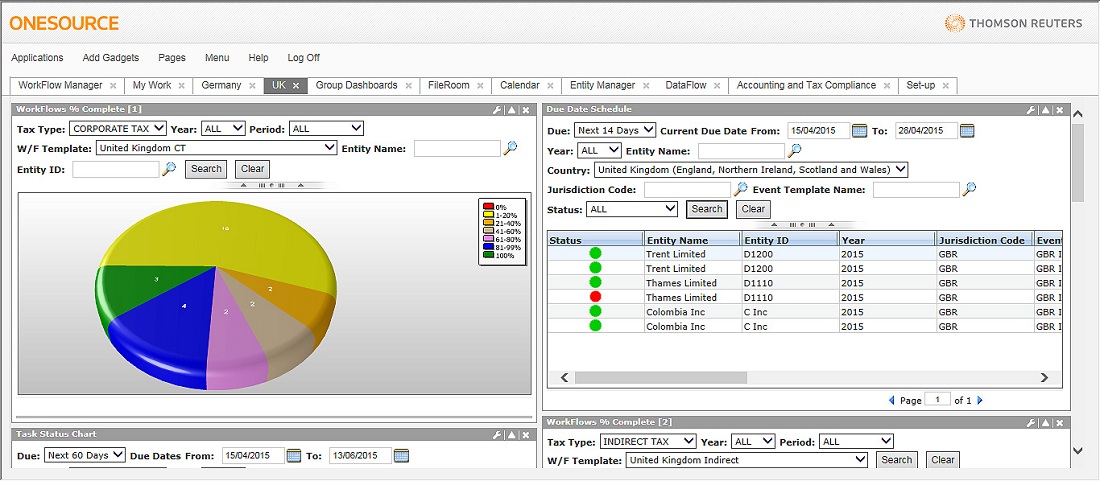 The main benefits of ONESOURCE are it contains all tools and features for tax needs, it generates reliable reports and it allows streamlined data management. Here are more details:
Complete tax solution
ONESOURCE is a great tax solution for complex corporate tax needs since it incorporates all tax transaction results to help in global tax compliance processes. It is a reliable, complete tax solution that can be customized to address the specific needs of any companies. The system will aid organizations in every step of the entire tax processes and provide an innovative solution to all the stakeholders in the tax field.
The solution provides a centralized platform where taxation is streamlined and standardized allowing for quicker decision making, accurate tracking, and confident reporting. It also contains a suite of process management tools for workflow and auditing management, benchmarking, and more.
Compliance and reporting tools
The system features compliance and reporting tools that aid in greatly simplifying tax processes by providing assistance on all tax-related procedures and information such as corporate tax income, statutory reporting, indirect tax, and tax provisions. It also helps generate a strong foundation of businesses by giving them the proper information they need through reliable reporting.
Data management
All competitive tax departments understand the importance of proper handling of information, which is why ONESOURCE is equipped with data management tools that allow users to always promptly comply with deadlines and make strategic plans. It also features analytics that could analyze gathered data and turn them into helpful insights.