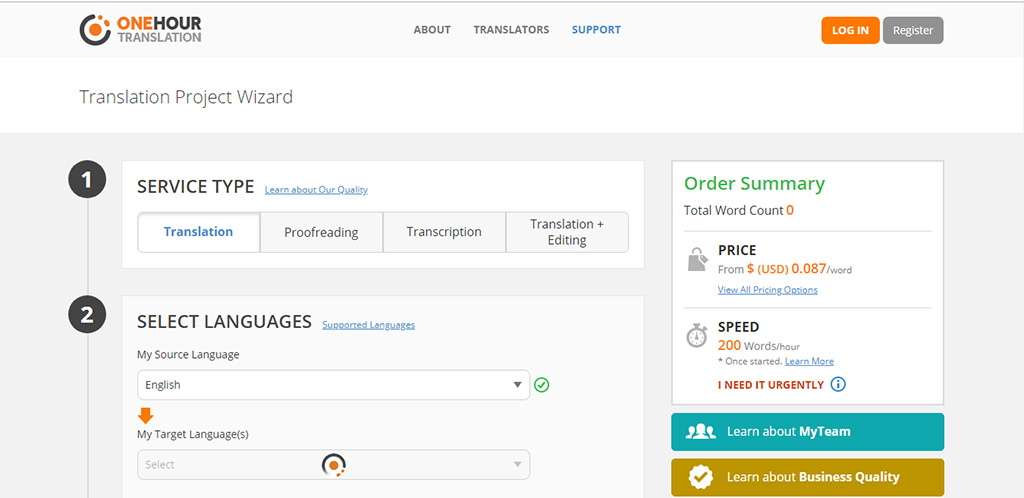 The main benefits of One Hour Translation are its ease of use, flexibility for any project size, fast turnover time to meet deadlines, branded portal, and good translations quality. For more info of this service's benefits, read below:
"My Team" Interface
It gives you a team of translators assigned for your account. You can directly communicate and work with them to ensure quality and consistency.
Active Content Translator
The software's API provides a direct interface to translation services in real-time. This API is integrated into your CMS and translates automatically when you post new materials to your website–no training or additional cost required.
Branded Portal
Allow your users to log in to your branded portal, pass assignments, and collaborate with the expert translators that work on the project. You can even assign a budget to your departments and hold full control of their expenses.
Good Quality and Easy to Use
Through the Real-Time Reviews technology, your projects are reviewed consistently by native-speaking translators, ensuring error-free results. Also, its intuitive project management tool helps simplify the process so you can just focus your attention on your business.
Committed to Meet Your Deadline
The software had streamlined the entire workflow to eliminate all delays and save you time. Big projects are divided and done by different translators to achieve a quick result. One Hour Translation is committed to meet your deadlines and there is even a countdown timer found on your page to track the delivery date.