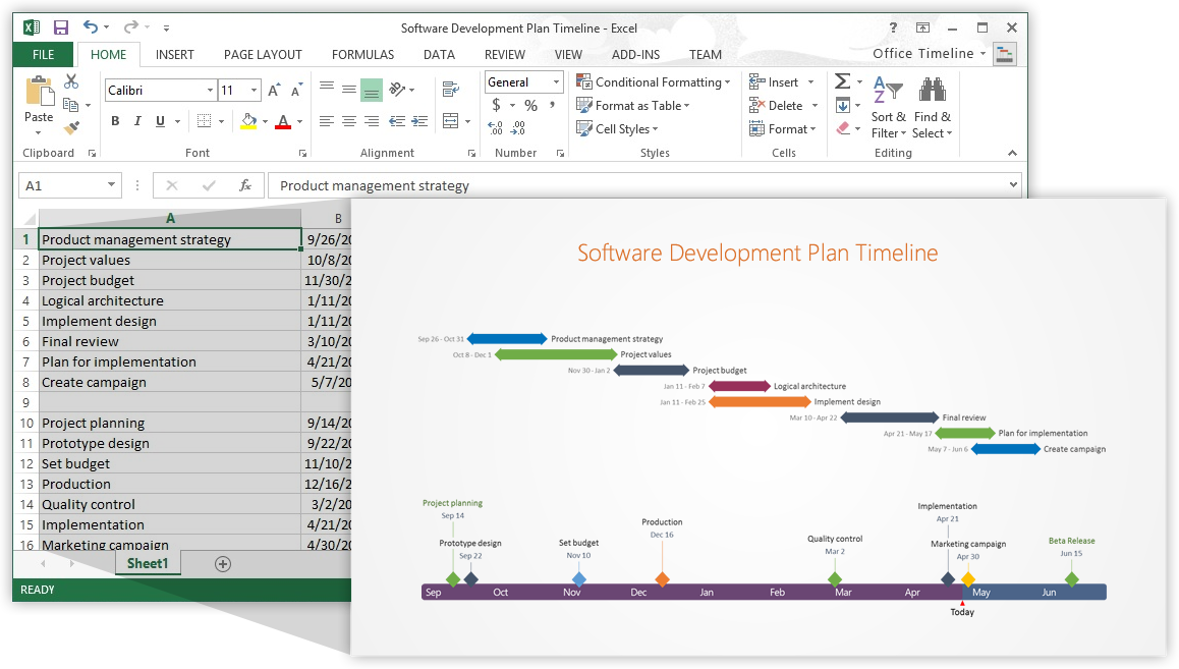 The main benefits of Office Timeline are its local PowerPoint timeline, easy-to-use visual project creator, and numerous free templates. Here are the specifics:
Local PowerPoint Timelines
No other software is required as Office Timeline works with PowerPoint directly. Because timelines are locally located at MS PowerPoint, they are presentation-ready and could be customized through PowerPoint features. Office Timeline operates as an add-on in PowerPoint that is installed on the Windows-hosted system.
Professional-looking Timeline
Creating professional-looking timeline and Gantt charts are made easy with Office Timeline. Just choose the timeline you want to create, place the data, and click the 'Finish" button.
Easy-to-use Visual Project Creator
Office Timeline is user-friendly and is built to work smoothly with PowerPoint so users can create timeline and Gantt charts. Simply copy and paste your data to the interface directly or import it through MS Excel or MS Project.
Free Templates
Users can access dozens of customizable and free timeline and Gantt templates through the Office Timeline. Users can modify template elements such as shapes, dates, styles, and colors manually or automatically through a timeline maker tool. With this, you are free to find the kind of template suited for your nature of job on Office Timeline.
Broad Usability
Office Timeline has helped different industries across the globe, including finance, health and medicine, technology, construction and many more, proving its broad usability since it was launched in 2012.
Learning Base and Support
The resource center of Office Timeline contains how-to videos, FAQs, and tutorials on the activation, installation, upgrades, and technical issues of Office Timeline. Self-service sections, live chat, email, and phone support are also available.
Free and Premium Versions
The free version comes with built-in templates, and the software's premium edition has powerful tools and features that can be used for academic reporting and business presentations.