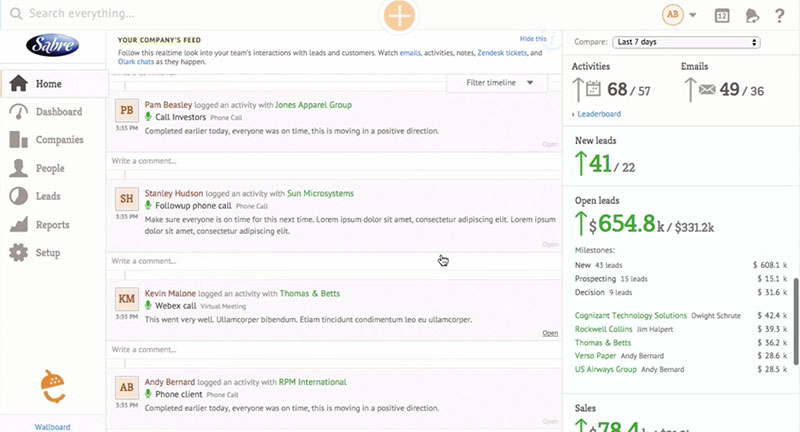 Nutshell CRM offers a user-friendly and attractive dashboard that shows all contact history, tasks, activities, and upcoming meetings. You can sync the app with Google Calendar and it will summarize all important dates, which will enable managers to concentrate on managing leads.
In the Setup section, you can include other users and assign them their specific roles. This feature is useful for large teams where not all users need to manage pricing info or access customer history.
The one thing that we cite about this software in our Nutshell CRM reviews is that you can import contacts in many ways: It can be from your Excel spreadsheet or the full list of your Google Account which integrates automatically. You can also record contacts manually. To boost transparency, you can divide contacts into Companies, People, and Leads. You can email the whole group using a basic template or you can do bulk editing if needed.
Nutshell shows contacts in a comprehensive manner and you simply need to click on the contact's name to see your relationship history, including the latest conversations and emails. You can use the same window to edit the record or arrange a personal meeting with the contact.
To generate leads and track sales, you can define your price and adjust it to the market where your service or product is placed. You can assign competitors, sources, products, and people to each lead, and track them all simultaneously. The system also allows you to distribute leads in other ways as well as assign unique tasks while creating a lead.
Finally, Nutshell's reporting feature is excellent. You can easily generate team activity lists, sales forecasts and analytics, high level summaries, and detailed performance charts. As with other exported documents, you can save the reports to your device as CSV files. You can read Nutshell CRM reviews here for more information about the software.