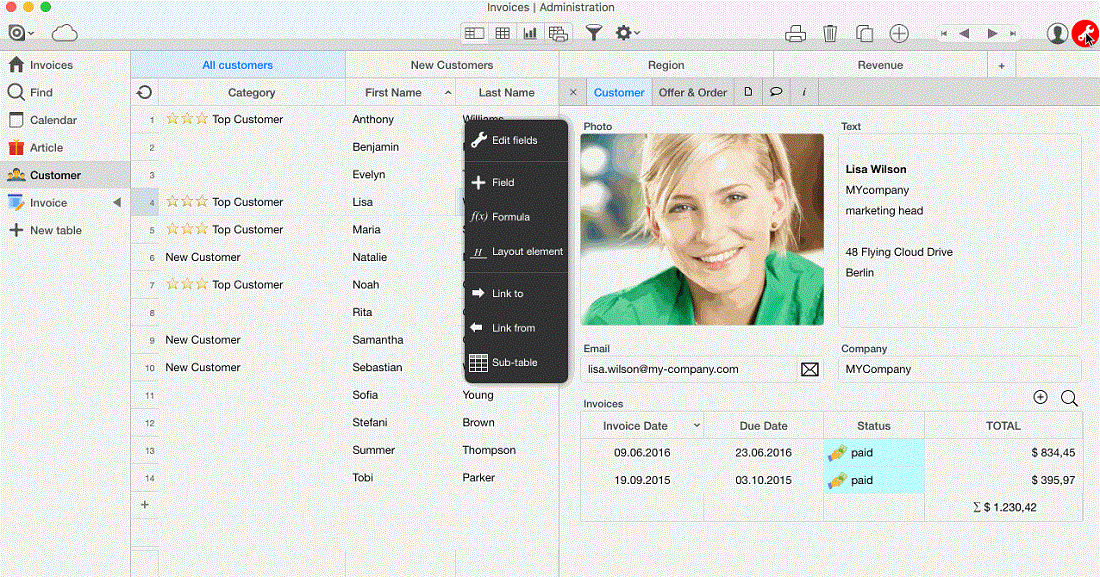 The main benefits of Ninox DB are its capability to create a variety of custom applications, tools for enhancing collaboration, and its wide range of accessibility. Here are more details:
Custom apps builder
Ninox DB simplifies custom DB apps creation for users by enabling them to link with several databases and providing them with scripting tools, ready-made templates, drag-and-drop formulas, and custom actions. Furthermore, the system can also be used for building various types of applications such as event management, invoicing, accounting, collections, real estate management, projects, timesheets, inventory management, CRM, and contact management.
Collaboration tools
There various collaboration tools in the system that users can take advantage of to increase their productivity. The system also empowers users to ask team members for collaboration and the admins can define the roles and permissions granted to every user. There are data import (contacts, Bento, CSV, etc.) and export (CSV and MS Excel) options as well.
Accessibility
Ninox DB makes it possible for users to work in any device from anywhere at any time because it features real-time data synchronization across all devices. For example, database applications for Mac can sync data with iCloud and at the same time, can also sync data with iPhone and iPad apps. Aside from that, web-based DB apps only need an internet connection plus a browser to operate and mobile apps can even access data without being connected to the internet.