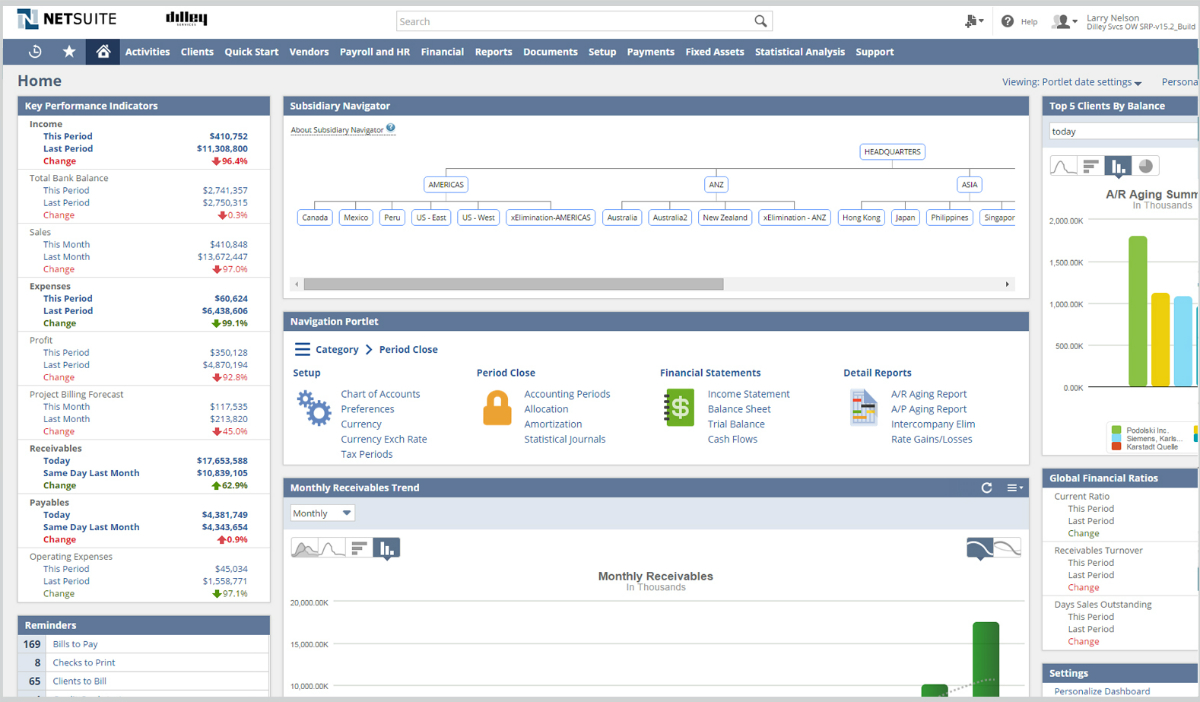 The main benefits of Netsuite ERP are its robust accounting and financial management tools, stable functionalities and reliable support.  Here are more reasons why should you opt for this solution over others. Our NetSuite ERP review details its main benefits:
Leading Financial Management Product
NetSuite ERP is utilized by thousands of enterprises for their accounting operations such as auditable and streamlined revenue management, expense management, and financial close. Plus, they get real-time visibility into critical info on their financial performance. This platform extends the capabilities of your software infrastructure by seamlessly integrating with other NetSuite tools for e-commerce, CRM, inventory, and order management.
Full Visibility on Your Supply Chain
The suite offers a complete set of purchasing, manufacturing, and inventory management features that make your supply chain more efficient and help you deliver a seamless procure-to-pay process. Plus, you get a real-time insightful view of vital procurement, inventory, and supplier indicators. Other key features of this module are self-service tools for partners and enhanced collaboration between customer and vendors all through the supply network.
Speed Up Quote-to-Quote Process
You can eliminate manual errors and bottlenecks, and speed up the order-to-cash workflow by developing a seamless process from sales quote to final order and on-schedule invoicing to payment. NetSuite ERP reviews indicate that this software's order and billing management component integrates your fulfillment, finance, and sales operations. The outcome is an efficient fulfillment flow, robust revenue recognition processes, minimized billing errors, and enhanced quote accuracy.
Simplify Fulfillment Flow
Order, invoice, customer, and shipping info are centralized to lessen fulfillment mistakes and avoid the expense of reconciling shipping data. This component integrates with leading shipping carriers such as UPS and FedEx to enable you to manage your shipping requirements such as order processing costs and updated shipping rates, within NetSuite.
Precise Revenue Recognition Management
This module allows you to generate on-time financial reports and comply with accounting regulations. It enables you to calculate and generate precise financial statements for both service and product sale transactions that occur either at a single point in time or are spread over different milestones.