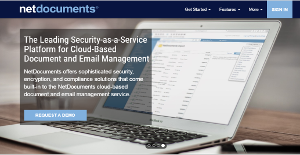 The main benefits of NetDocumets are its simplicity, increased productivity, and streamlined operations. That is because it reduces costs in time and expenses with features like enterprise search. It also provides project-centric workspace, built-in disaster recovery for document retrieval, and many more. It allows businesses to streamline their operations from hardware to software while at the same time securing storage and data.
It is also adaptable for any firm size. It can integrate with other software as well such as Microsoft Office and Adobe applications for easy documentation, editing, and management. Fulltext enterprise search enables you to browse the entire archive for spell checking, metadata, and Boolean operators. It also has adjustable retention policies for you to decide the lifecycle of your documents.
NetDocuments notifies and alerts you if you are simultaneously logged in with another user in the same document. It also includes alerts as well as audit trails if there are changes made on the document for maximum security. Stamps can also be used to approve your documents and streamline your workflow. This includes the option of third-party applications so that you can manage your collaborations and improve on your productivity.
At the same time, your files and documents can be compartmentalized in cabinets, tags, and folders across the cloud storage for easy management. The software also allows you to manage who can edit and create files and set limits to their editing this also applies to user groups.