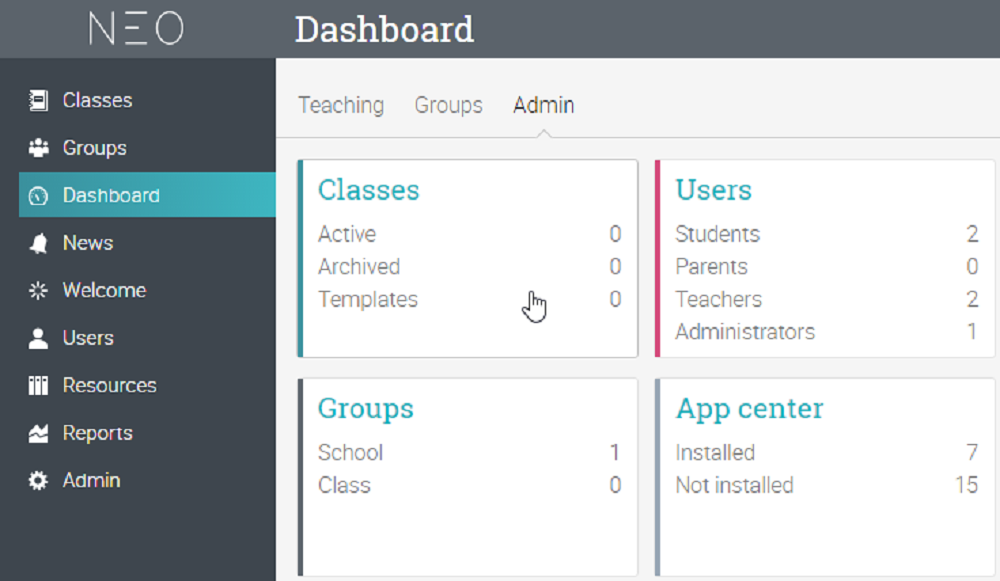 The main benefits of NEO LMS are its features that enable class creation and distribution, responsive interface, mobile-friendly apps, cloud-based architecture, tools for motivating learners, and economical and flexible pricing scheme. Here are more details:
Class management features
NEO LMS features an authoring tool that makes the creation of engaging and stunning classes a breeze as well as a robust grade book that teachers can utilize to easily assess the progress and performance of their students. Furthermore, teachers aren't required to have any skills or background when it comes to designing for effective creation and distribution of classes. Materials are kept in one centralized database that can be accessed whenever essential student information is needed. It also comes in more than 40 different languages.
Responsive and engaging interface
NEO LMS's interface is clean, intuitive and is entirely user-centric, adding enjoyment to the learning experience. Aside from that, the interface is responsive, which means that it will easily adjust to any size of the screen it's accessed from. It is also equipped with all the necessary configuration options that allow users to tailor the system according to their preferences.
Mobile-optimized
The system sports a mobile-friendly interface that enables teachers and students to gain access to the system and work with it, regardless if they're using desktops or their mobile devices. Also, NEO LMS offers branded mobile applications for Windows, Android, and iOS, which translate to the system being ideal for every user, starting from K-12 schools up to international universities.
Cloud-hosted
NEO LMS is a cloud-hosted application. This means that no additional software and software has to be installed or purchased. This saves both time and money to the part of the users.
Motivation tools
To further engage learners, the system is equipped with motivational tools for encouraging them to participate more and pursue better results. Examples of such tools are the award system and the feature for measuring and comparing completion rates.
Cost-effective
Last but not least, NEO LMS is one of the most cost-effective LMS solutions around. It comes with flexible pricing schemes but the electronic support it provides is available 24/5. Also, the system does not contain any setup charge, cancellation fees, and hidden costs like the extra charges for storage, bandwidth, or technical support.