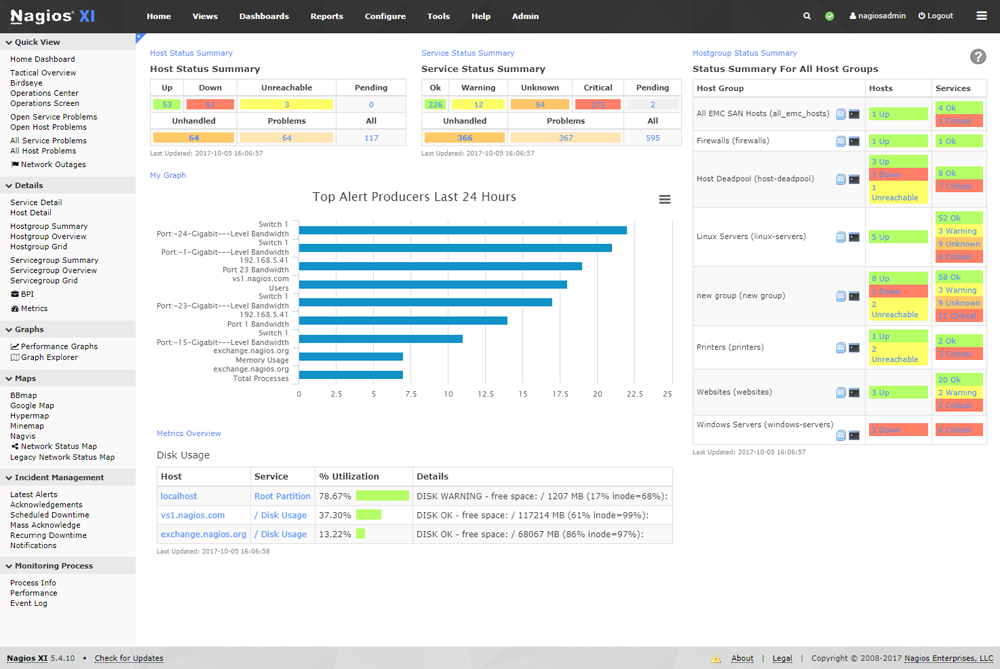 The main benefits of Bizness Apps are its data monitoring, its configuration wizards, and its advanced graphs. Here are more details:
Nagios XI lets organizations and companies keep an eye on the infrastructure of their IT and their critical components, especially if these components affect the daily operations of their business. Applications, operating systems, network protocols, system metrics, and services can all be monitored by this server and networking monitoring software.
Nagios XI comes with a web interface with powerful dashboards, allowing users to easily look at their monitoring information and data as well as their network. They have a macro-level view of network devices, services, hosts, and other parts of the IT infrastructure, and they can easily access all of the data and information required to efficiently and effectively perform network monitoring.
Server performance can be easily checked with the Nagios Core 4, which is the software's monitoring engine. Nagios Core 4 uses processes that enhance how users monitor their server performance.
Monitoring new devices, applications, and services can be done easily with Nagios XI, thanks to its configuration wizards. Nagios XI users just need to enter the information required and immediately start monitoring. There are no complicated monitoring concepts and processes to deal with.
Nagios XI's capacity planning feature lets users look at the systems they currently have and the components of their IT infrastructure and easily identify issues. With this data in hand, they can formulate a plan to replace obsolete components and systems, which in turn improves network performance as well as reduces costs that may be brought about by network issues and problems.
Network issues can be easily dealt with thanks to advanced graphs that let users quickly view them. Alerts can also be sent to end users, IT staff, and stakeholders whenever network incidents like an outage happen. These notifications can be sent either by text or email and will include incident details so its impact is immediately understood and dealt with.
Numerous users can be accommodated by Nagios XI and have the features needed to manage those users. The software can be configured by administrators so that infrastructure components can only be viewed by stakeholders or clients assigned to them.
New accounts can be easily created with just a small number of clicks and roles can be assigned just as easily. This helps admins delegate the monitoring of system settings and configurations to end users and team members.
Nagios XI's API lets users integrate it with third-party applications. In-house ones can also be integrated. Community-developed add-ons can also be accessed, enhancing the alerting and monitoring functionalities of the software.